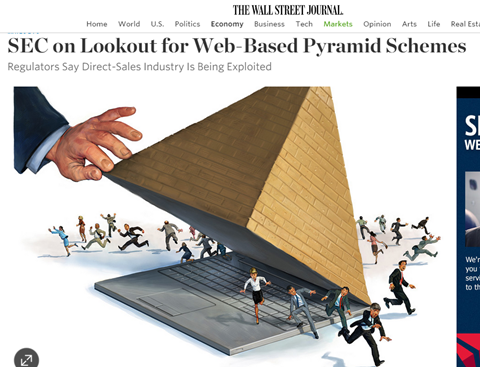 If you've ever been told that you could make easy money and it sounds too good to be true, it probably is. Pyramid schemes often sound like enticing business deals, but fraudsters may use this "business model" - to take advantage of you.
"The SEC's guidance on pyramid schemes advises investors to "exercise caution...if what is being sold is speculative or appears inappropriately priced." But experts say this can be difficult to judge.
Pyramid-scheme operators have "learned the techniques of saying we're a legitimate company," by purporting to want to make money mostly from sales, rather than new recruits, said Joseph Mariano, chief of the Direct Selling Association.
There is no hard-and-fast test of whether a scheme is legitimate, according to lawyers. Instead, the decision rests on what is often a complicated analysis of revenues and other factors. "It can be like nailing Jell-O to a tree proving they're pyramids," said Kevin Thompson, an attorney for multilevel-marketing companies." - WSJ,com
Before you invest your time and money, it's important to ask good questions and research the company.
Here are some typical characteristics of a pyramid scheme:
Emphasis on recruiting

No genuine product or service is sold

Promises of high returns in a short period of time

Easy money or "passive income" (money you earn without doing anything)

No demonstrated revenue from retail sales