is a disposable email address service. When you visit ThrowAwayMail.com a new email address is generated for you. The generated email address can immediately receive email. Any email that is received will show up on the main page. No one other than you will see the emails that are received.
It is important to note that an email address expires after 48 hours. When an email address has expired, the email address and any received emails will be gone. A new email address will be generated upon visiting this website.
There are many reasons for using a disposable email. You may want to give someone an email address without revealing your identity. Or you may want to sign up for a website or web service but you are concerned that the website will send you spam in the future. Completing surveys, completing forms on a site you are unsure of, to put off an annoying sales person, or when a company email address won't do… these are but a few examples.
WARNING
This is as much a warning as a tip.
Knowing this is available with just a click in seconds should be a reminder that "things are not always as they appear". When you view an email in your inbox, something appearing familiar... may not be from a friend or business you expect.
You have already experienced emails from your "bank", the online store you shop at or maybe a long-lost friend. Often the emails come from connections on Facebook. So many people leave their Facebook profiles open for the public to view and someone can easily grab contact information. As they do, they can use a temporary email to bait you with a story or fake offer.
Facebook privacy is an easy fix. Here is a video from Kim Komando
HOLIDAYS
Since the holidays is a time when people re-connect with friends and relatives, there is hope in the air… with a little less caution. Being cautious but hopeful is a good thing this time of year.
MORE TEMPORARY EMAIL SERVICE OPTIONS
Use your domain with Guerrilla Mail to read and receive email. Further features & upgrades are available that allow you to create your own branded disposable email site.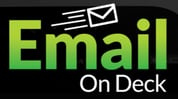 EmailonDeck is always simple and free. Create temp emails fast in just 2 easy steps. Used by professionals all around the world. Protect your privacy by not allowing spam in your personal inbox. Emails are constantly being securely deleted.

Give out a Mailinator address anytime a website asks for an email address. Mailinator public email is auto-deleted after a few hours. Email to Mailinator is in the public domain. You can also attach your domain to Mailinator. Get every email address for your private domain in a (private), inbox!

Does this empower you to take more control over your privacy?
... or does it shock you to know how simple and easy for people of any age, from any country, and anyone with access to the Internet can create disposable email addresses that appear to be official?