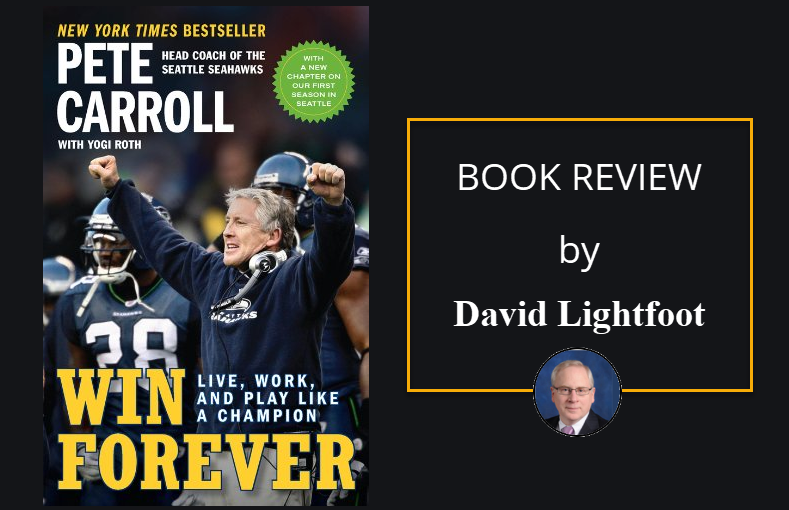 I am not a big sports fan and I am certainly not a fan of athletes as heroes. But I have been intrigued by Pete Carroll of the Seahawks. I read that he views his job as making everyone in the Seahawks organization the best they can be. That is how I view the job of any business manager. Which led me to wanting to know more about Carroll's management style.
Which led me to this book.
The book is about Pete Carroll's journey to developing a coaching philosophy he calls, "Win Forever." The book is quite autobiographical and, while interesting and a pleasant read, it is short on substance. It is also dated, as it was published originally at the point Carroll joined the Seahawks. The paperback version, which I read, has a bonus chapter about introducing his philosophy in Seattle and the results of his first season coaching the Seahawks.

The journey to developing a coaching philosophy starts with the reading of John Wooden's book. In that book, Wooden, the legendary basketball coach at UCLA, says it took him sixteen years to figure it out. This spurred Carroll to start writing down his own vision, philosophy and belief system into a detailed plan for winning.

Carroll continued to write down notes from his journey of discovery about who he was as a coach, but also as a person. The timing of this was, coincidentally, after sixteen years of coaching NFL football and just before Carroll took the head coaching job at the University of Southern California. During the nine years at USC, his teams won seven straight Pac-10 titles, appeared in seven straight Bowl games, won two national championships, and had three Heisman Trophy winners. Carroll attributes this success to his Win Forever philosophy. The success at USC ended when Carroll got a call from Tod Leiweke, then the CEO of the Seattle Seahawks, to interview for the head coach position.

Carroll's philosophy of Win Forever has been influenced by coaches and athletes he has worked with or known, but he is also a reader. I mentioned John Wooden's book above. Another formative work was that of Abraham Maslow. His classic book, Toward a Psychology of Being, became a foundation for Carroll. Most will be familiar with Maslow's "hierarchy of needs" and the concept of "self-actualization." Maslow caused Carroll to ask himself, "What if my job as a coach isn't so much to force or coerce performance as it is to create situations where players develop the confidence to set their talents free and pursue their potential to its full extent?"

This resonated with me, as this is the way I see management. That's why I was interested in reading his book in the first place. I generally don't read books about sports and sports heroes. I also detest sports analogies in business settings, such a "quarterbacking a project." I made an exception with this book because Pete Carroll's philosophy aligns with mine and has applicability outside a sports context.

My belief is that every supervisor is responsible for the success of each of their direct reports. Further, a supervisor's job is to make each of their direct reports the best they can be. If the direct report fails, it is a failure of the supervisor.

Back to the book. Even more influential than John Wooden's or Abraham Malow's books, Carroll cites Tim Gallwey's The Inner Game of Tennis, which advocates an athlete masters the art of playing with a "quieted mind." Carroll says Gallwey's book has influenced his coaching the most, as he has tried to achieve "the inner game of football." The key is to prepare so thoroughly that any self-doubt is erased, as any self-doubt will cause the athlete to "overtighten in stressful situations."

Pete Carroll's Win Forever philosophy has at its foundation the notion to "always compete." Maybe I'm just getting old, but the idea of always competing just makes me feel tired. Later, Carroll explains, "Competition is not about beating your opponent. It is about doing your best; it is about striving to reach your potential; and it is about being in relentless pursuit of a competitive edge in everything you do." Those things I can relate to and make sense to me in business settings.

Another core tenet of the Win Forever philosophy is to "do everything the best it has ever been done." That has immense appeal to me. And finally, "Practice is Everything." The business application of this, is to thoroughly prepare for whatever the task might be. Carroll calls the result, "Playing in the Absence of Fear." In business, I'd call this doing business with the confidence gained by very thorough preparation.

The book is a bit dated, being published in updated form ten years ago. The last ten years, especially with the Seahawks' success, would make for a good update to the book. But instead, and probably in recognition that it is hard to make money selling books these days, Pete Carroll and Dr. Michael Gervias, have founded a training company called Compete to Create. Gervais joined the Seahawks in 2013 and implemented an integrated psychological approach with the team.

In 2014, this approach was used with Boeing, Microsoft, and other local companies. Since then, the company has begun to scale and has introduced an online product offering. I have not tried it yet and do not know anyone who has, but it sounds interesting. If you're interested, check out www.competetocreate.net.

If you're interested in Pete Carroll's journey, you would probably enjoy the book. Otherwise, I found it to be only mildly interesting.
About the Author: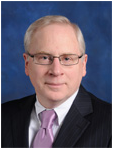 David Lightfoot has over 35 years of accounting, finance and operational experience. Most of the last 25 years David has served as Controller, Chief Financial Officer or Vice President of Finance for small and medium-sized businesses. He also has operations experience and has worked as a CEO, giving him a broad business perspective.
David has been a CPA for over thirty years and also is a CMA (Certified Management Accountant).