During a time when I thought I would never run again due to some health issues, I decided to make some healthy changes in my life. Joining the gym that friends liked was my first step. One day, a friend said: "I am running a half marathon!" I let her know emphatically that I would "never run a half marathon" because running was too difficult, and my health held me back.
The yes moment
I continued my routine with a slow and easy walking pace on the treadmill and riding the bike. It wasn't long before I started to feel better, so I added weight training to my program to gain more strength. After a few months, Cheryl asked me to join her in a Couch to 5k Program. In spite of my previous apprehension, I said "yes" and brought my two daughters with me for morale support. Training began at the first meeting, and this is where I met my run friends.
The new routine
Our running group met three days a week. Over the 12-week program, we got to know each other quite well. Our coach, Jane, wanted pictures each time we ran as proof that we were training as expected. "Trust but verify" was her mindset. So, we showed up for training with mascara on, ready to have our pictures taken and posted on social media! Our pictures were sometimes silly, but I am very glad to have captured those special moments during our runs. Watching for photo opportunities added fun and brought us closer. The joy, companionship, and conversations were a great bonus. During the Couch to 5k Program, thoughts, and discussion about "what happens after the program?" Jane was considering coaching a half marathon program and participating to continue our adventure was top of mind.
We ran, and planned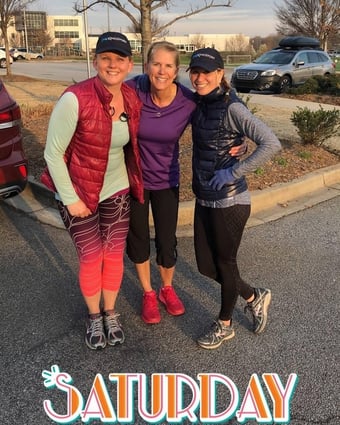 We ran the 5k race, took our photos, and went home to muse about a larger goal, a half marathon. A half marathon much, much more than I have ever run in my life and I was doubtful that I could do it.
Overcoming
The running group had shrunk to a few core people, and we decided to keep running three times a week because we were already thinking about the possiblities of a longer race. Miraculously, we ran all summer during a scorching Carolina summer to stay in shape and encourage each other. Rain or shine, we ran! (Like Forrest Gump) There was a day that we were forced off the trail because of slippery, muddy trails. We split into two groups and my group got lost taking a detour down the wrong path! To make it worse, the sky opened up and it poured the rest of our run. In spite of the calamity, we eventually found the other half of our group and Jane led us out of the mess. Words cannot express how drenched and dirty we were at the end of that memorable run, but the photos certainly tell the story.
The next "yes"
When summer was over, we looked ahead to the half marathon. I decided that if I could do a 5k 3 times a week (Which was the length of our training runs over summer), I could run a half marathon. In spite of the pain of running in the Carolina heat while dripping with sweat and feeling miserable most days, we pushed through it. I decided I was going to do the half-marathon, but I needed to convince a couple of friends to join me. I celebrated when several of my run friends decided they were game who convinced the whole summer run group to join us in the half marathon.
More training and lessons
At the end of August, kids went back to school, and we got serious about training. Just as before, we met three days a week to run. For additional take-aways, we had a lesson about Bible truths related to running a race during each training session. Our lessons also included proper running technique, nutrition, and pacing. We learned that certain foods and drinks should be avoided during training and there are optimal foods to drink and eat before and during a run. Correct pacing is a key to running a race well. Running fast at the beginning of a race results in getting burned out very quickly.
The plan and "goo"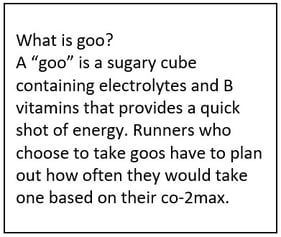 Jane guided us to create a training plan which then led to making a race plan, which detailed exactly what we would do during the race. This included even the little things such as how often to take sips of water, how often to eat a "goo", and when to take a salt tab.
In my case, I would need to refuel every 45 minutes! During a race, we would take a sip of water approximately every 3 miles. The salt tab would be taken around mile 10 to replace the salt lost by sweating.
Anticipation and anger
Excitement and momentum built as we kept training. Each milestone that we hit left us feeling exhilarated. Completing eight 8 miles was a huge milestone for me. I never thought I would run eight miles! (Never ever.) I have to say that we were amazing! I was so proud of us. Several of us ran the Swamp Rabbit Trail farther than I ever imagined. The day we ran 11 miles is burned in my memory because one of our group members, Lexi, made a wrong turn and got lost. Lexi ended up on a different trail and just keep going. When she realized that she was lost, she stopped next to a telephone pole with a cross on it and called Jane to come and get her. Our coach had the task of trying to find Lexi. This was difficult because she wasn't on the road, she was on a trail! It took more than 30 minutes to find our friend and she was angry because she had run so long in the wrong direction and got lost.
Less vs more
A half marathon is 13.1 miles, and our longest training run was 11 miles. We started tapering off to prepare for the race (instead of ramping up.) Two weeks before the race we ran 5 to 6 miles and the week before the race we ran a couple 5ks. The day prior to race day, we walked and ran a couple of miles just to keep our muscles loose.
Half marathon
The Kiawah Island half marathon was amazing! It was a gorgeous race, and our group was so happy to run it together. We were awake and travelling early and the weather was perfect with no rain and 60 degrees. We cheered each other on as we crossed the finish line, and this is where I received my first medal! We kept talking about what was next. We didn't want to stop running together.
Running became my thing… but
Running was still very difficult and uncomfortable because of my asthma but it had become "my thing." There was no doubt that I was a slow runner in comparison to my friends. This alone was discouraging and frustrating.
The next step?
The group again shrunk, and we continued training after the half marathon race, again thinking about the possibilities. We met couple of times a week early in the mornings to run.
Cheryl was preparing to run her first marathon. I was intrigued. She triggered new thoughts: "What if I ran a marathon?" This is quite a change from when I said, "I would never run a 5k." It was a huge goal and one that I never dreamed I would achieve, especially not on my own. We began to talk about going big and doing a marathon, but training is a huge commitment and sacrifice of time. Yet, I needed the fellowship, exercise, and training.
I was mentally ready to take it on, but only if someone would be my run buddy. My run friend, Niki said, "OK Stephanie, I will consider it," but not ready to commit…yet.
We followed a marathon running plan based on the half marathon pace we had just completed.
That put us already at the halfway training mark! We had only three months left to train! Each week we added length to our long runs and then Niki made her decision with a "yes!" I was very happy to have her partner with me in this adventure. Cheryl also committed and then another friend said yes, so the four of us trained together.
Marathon training
We planned to run our first marathon in March 2018. We showed up to all the training runs. Although it was difficult, we kept showing up, even though it was winter, and the weather was cold. When the temperature dropped below freezing, running seemed almost impossible with asthma. We soon discovered the best way to dress when running in sub-zero temperatures and pushed through the cold. Wearing our scarves, hats, earmuffs, vests, and hand warmers while training was complicated and a bit annoying. We were inspired to buy matching vests and hats which we wore on every run. After our last training run, there was a big celebration. Jane, our precious run coach who became our lifelong friend, gave us pre-race gifts which put an exclamation mark on our success.
More than running
There is something magical about the deep bond between friends who are committed to endure a challenging time together. Lifelong memories were created as we pushed through despite extreme weather during both the summer and winter. We showed up in spite of the barriers and did what was previously thought of as "impossible." We learned how far we could go, run, and finish.
The big day
Jane came to the race with her family with big signs to cheer us on. They would drive to each "cheer stop" along the 26.2 miles of the marathon and hold the signs with big cheers. My favorite sign said, "Hurry up, I'm missing March Madness for this."
Hitting the wall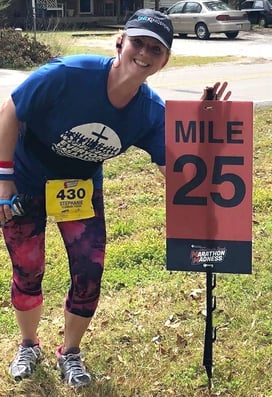 At 20 miles, I hit a wall and had to walk quite a bit. At this point, it wasn't a matter of getting a personal record. I just wanted to finish the race. I started doing a run-walk pace with several others until mile 24. I asked for help from Jane because I thought I could only walk the rest of the marathon I was so exhausted! I had trained hard but was not a natural runner. Jane found me and there she was, encouraging me to persevere until the end. We stopped to take some pictures and try to enjoy the journey.
The photo at mile 25, the last marker before the finish line, showed a moment of celebration. I really couldn't believe I had made it so far! I was about to finish a MARATHON! Me, the person who had believed my health would keep me from running a 5k was about to finish a 26.2-mile marathon.
But of course, I didn't do it alone. I had a coach. I had run friends! We encouraged each other. We showed up. We finished the race.
Why it matters
There will be challenges in life. Depending on where you are in your life, you may want to do something to improve yourself like go back to school, get a new job, start a business, or become a master with a special skill. If you begin with the thought "I could never do that," you limit your possibilities. We miss out on great relationships and potential successes.
Whatever that thing is that you want in life, you must choose to do the hard thing, endure being uncomfortable, and show up when you don't feel like it.
There were so many days I didn't feel like doing the work, but because I had the accountability of a run friend, we showed up together and put in the hard work. It made it so much easier.
My story becomes a model for other decisions I will make. While I will never run another marathon, there will be other "impossible" adventures I will pursue with much more confidence. I have plans to pursue many more difficult things, but because I know I've done something hard before, it gives me the confidence to know I can complete the next hard thing on my list!
About the Author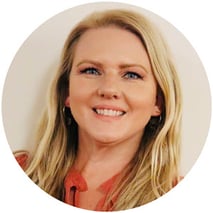 Stephanie Evans is a project manager for an inbound marketing company. She assists CEOs of small businesses with projects and help them function with success. Stephanie graduated with an AAS degree in Marketing with experience in the insurance industry, application processing and customer service. Stephanie has been a volunteer for the American Heritage Girls scouting group. Learn more about Stephanie >