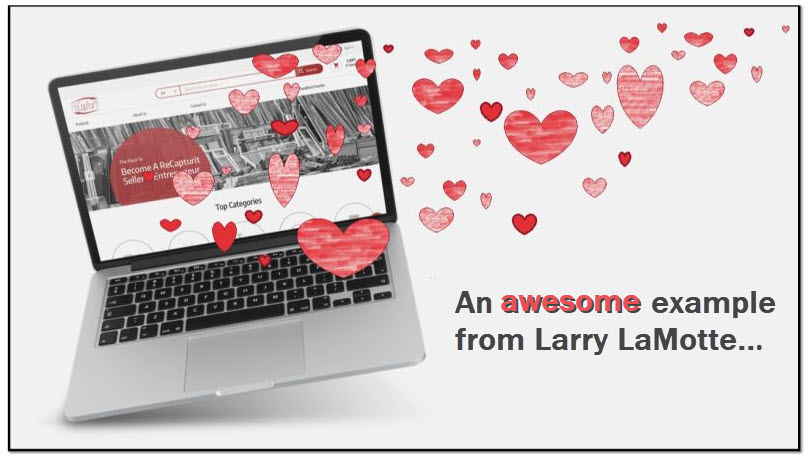 Some people regularly "blow me away." Since I meet so many, it is difficult to list them here. Today Larry LaMotte (CEO/Founder of Recapturit) once again takes action and stands out as exceptional. By his actions, he models how to use social media in such a way that is beyond marketing.
I can't imagine this is the result of a board room decision where managers make a strategic plan to execute a social media marketing campaign. Instead it is about beliefs, principles, culture and questions around "What do we care about, and how can we take action."
Sure enough, you will read a snippet about me (Michael Hartzell) within Larry's lesson. He did not intend it to be a lesson. I am using it to say "Be like Larry."
Larry LaMotte's cares and shares his thoughts on LinkedIn:
Next steps:
I recommend that you reach out to Larry, Cheri Kuhn, Jessica Marschall, and sure enough... myself as well.
There is a system/option on LinkedIn to make recommendations. Larry went beyond the elementary, to the awesome.
Thank you Larry for what you do. Hopefully a few folks will reach out to you on LinkedIn to connect.
P.S.
Did you know you could embed a LinkedIn post from LinkedIn in your blog or website? You too can highlight people and companies you appreciate via a blog post and embed the post.
Navigate to the post you want to embed.
Click the More icon in the top right corner of the post.
Click Embed this post.
Click Copy code from the pop-up window that appears.
Close the Embed this post popup window.