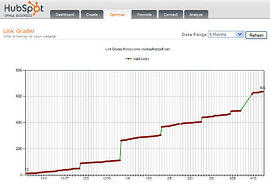 Here are resources to help you find links to your site. No links to your website reduces the chance of being found. Experts agree that links to a site has a direct impact on SEO. Each link to your website is another door leading to your website. Those businesses with more links have more authority in the eyes of search engines. Each link is a "vote" saying: "Your website is a place to be."
The graphic to the above right is from inside Hubspot software which has a link grader tool built in.
Can't find links to your site from the other businesses? How do you find links to your site? If you do not have Hubspot software which has a built in Link Grader tool, here are other tools you can use to track links to your website:


Linkscape provides never-before-accessed link data on over
54+ billion URLs
across
230+ million domains
.
SEMRush.com
was designed by the
developers of SeoDigger and SeoQuake
to satisfy your needs in advanced SEM and keywords research. They analyze 40 million keywords for 20 million domains. 21 000 users registered.