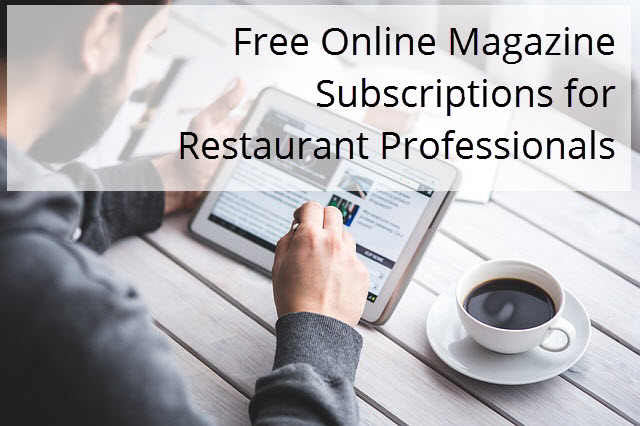 Restaurant Marketing Idea #432 is: Listen by using "search" on free magazine subscriptions for restaurant professionals and restaurant owners.
Reading online magazines can keep the juices flowing. Put them in a bookmark on Delicious (or your browser) and once a week 'sharpen your saw' by choosing one of the resources below.
Then input every free restaurant magazine into the search tool. You could subscribe, but remember that your time is short and isn't your inbox already full? Be selective. An alternative is to subscribe via an RSS feed. I use Feedly to keep up with specific websites.
Jeffrey Gitomer makes a point in his presentations: "Think locally, act personally". There are days it is tough to get started. If these resources seem overwhelming, look only for topics that relate to your type of restaurant business.
Another option might be Foodservice.com which sends a daily email "Daily Buzz" with headlines. Foodservice.com, covers areas which might not relate to your specific needs but can serve as a reminder to listen and learn. I am subscribed to Foodservice.com and a few others since it is my business to learn and teach.
Today I thought providing a list of online restaurant / hospitality magazines (ezine) & resource options would be handy for you.
I am going to trust you NOT to get too deep and spend hours of study. Remember that you have specific needs. Use the 'search tool' to find what you are looking for vs. trying to take it all in.
Free Online Restaurant Magazine Subscriptions for Restaurant Professionals and Restaurant Owners:
Don't subscribe to all the e-magazines. There is an overlap with information from site to site. Some websites serve primarly as portals.
You can also check yout Smartbrief. SmartBrief is a media company on a mission to save you time and keep you smart. The premise behind SmartBrief is simple: there's too much information out there and too little time in the day to read it all. Their editors hand-pick the most relevant and important news from all over, summarize it, link to the original sources and deliver it -- for free -- in one-stop-shop e-newsletters. Caution: You are depending on them to choose well.
Bookmark this page so your time is not spent searching...
If you find that searching for these specific resources finds you wanting, then set up a Google Alert to have the solutions sent to your via email.
Did I miss a restaurant online magazine resource you find helpful? Please use the comments button to share.