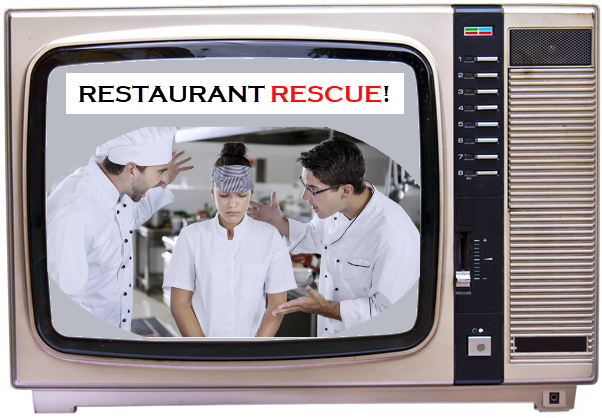 You've probably seen at least one reality show like this: a chef or restaurateur visits a failing eatery, usually undercover. They try the food and experience the service firsthand before revealing their identities — and their less-than-flattering opinions of the place. Then, they get to work, teaching the staff how to improve everything from their mixology skills to their menu choices to their ability to warmly welcome customers. In the end, they show a completely revamped restaurant, and the expert moves onto another place that needs help.
There's only one thing wrong, though — a lot of these "fixed" eateries fail. One study showed 60 percent of the restaurants celebrity chef Gordon Ramsay visited on his show Kitchen Nightmares have since closed. And it could all boil down to the fact that, while Ramsay and other foodies know how to make a restaurant welcoming and delicious, they don't specialize in marketing the new place. Here's what these experts get wrong.
1.

The Leadership Isn't Fully Capable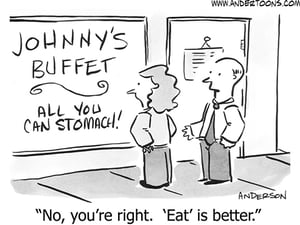 Often, reality show-rescued restaurateurs are in a tough spot for a reason. They have trouble hiring hard-working staff members, or a manager is holding them back by not letting them change things or pushing them forward. Although an expert can come in and give advice on, say, firing employees or revolutionizing the menu, they typically cannot inspire change within a restaurant's leadership. Some people don't have the business gene, and it will affect their restaurant whether or not they have help from a pro.
Leaving someone in charge who doesn't have an inherent business sense will make the restaurant and the business suffer. As such, most managers and owners cannot market their eatery's assets, which becomes a huge problem after the post-reality-TV buzz wears off.
2.

Word of Mouth Is a Strong Advertisement

Yes, an expert can come in and try to change the way a business looks and functions, and, sometimes, that's enough to save the place from financial ruin. More commonly, though, no amount of marketing or positive buzz can erase the restaurant's negative reputation. A celebrity chef often comes in as a last-ditch effort to save a place with a reputation for bland food, poor service and dinginess. Former customers share their opinions with others, who then avoid the eatery, too. Perhaps some will give the place a second chance, but any marketer knows how valuable word of mouth is in promoting a place — when that trust gets lost, there's nothing a makeover can do to restore it.
3.

Interior Design Matters, Too

Lots of reality shows do cleanup when they visit a down-and-out restaurant — some even do quick makeovers of the dining area so that customers feel more comfortable there. But the inside of a restaurant is a massive chunk of its marketing, and, sometimes, the experts' efforts do little to differentiate their project from the restaurant or bar next door.

With more time, perhaps they could come up with more personalized design schemes that highlight the essence of the restaurant and its vibe. Otherwise, a coat of paint and new furniture won't be enough to rebrand the place.
4.

Social Media Is Another Vital Element

We've touched on word-of-mouth advertising, but another way for restaurants to build buzz is with social media. Although plenty of reality show experts come in and revamp an eatery's food menu, they don't create plates that would build enough social media buzz to convince customers to come in. Social media users see delicious-looking meals on Instagram and feel as though they, too, need to visit a place. Not only are many restaurateurs unfamiliar with such a marketing method, but they also fail to come up with menu offerings to draw in such a crowd.

That doesn't mean they have to invent the next big foodie item, but it does mean meals should look good enough to photograph and share online. Half the appeal of such photos comes from the restaurant environment itself — bright lighting, exposed brick, neon lights, marble countertops and more have proven benefits that boost the number of pictures posted of a place. Then, of course, there's the food, which should be colorful, layered with fresh ingredients and plated to perfection so it, too, photographs well. Once the reality-show buzz wears off, this type of interest will endure.
Marketing Keeps the Restaurant Alive
An expert can lay the groundwork for a restaurant's future success. But marketing plays an important role, too — and much of that will happen after the fact. So, restaurateurs who imagine receiving such help to turn their businesses around should be aware it's only the first step. They'll have to take control of their business' reputation, service and online image so they can change the minds of those who have previously chosen to write off their eatery.
About the Author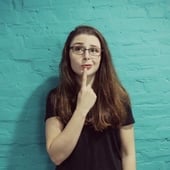 Kayla Matthews is a researcher, writer and blogger covering topics related to technology, smart gadgets, the future of work and personal productivity. She is the owner and editor of ProductivityTheory.com and ProductivityBytes.com. Previously, Kayla was a senior writer at MakeUseOf and contributing freelancer to Digital Trends. Kayla's work on smart homes and consumer tech has also been featured on Houzz, Dwell, Inman and Curbed. Additionally, her work has appeared on Quartz, PRNewswire, The Week, The Next Web, Lifehacker, Mashable, The Daily Dot, WIRED and others.