Restaurant marketing happens at every point of contact and menu covers can play an essential role when connecting with guests. Becky and Ron Armstrong offer a guest post which gives you essential information about menu covers. Read on as Becky and Ron share their wisdom:
Menu Covers for Restaurants 101:
Basic Terms and Concepts
Have you ever gone glassy-eyed listening to your mechanic explain what's wrong with your car using words you never knew existed? If you are just as intimidated by the thought of ordering menu covers for restaurants, check out some basic terms you will probably hear in that conversation either on-line or over the phone.
Menu Covers - Materials and Construction:
Heat Sealed menu covers are among the cheapest you can buy. The outer edges of two pieces of plastic are heat welded, leaving an opening along one edge so that menu pages can be slid inside. The heat seal process can be used with clear plastic or with solid colored plastic with cardboard sandwiched between the plastic – often used for 2-page menu books, check presenters, or binders.
Sewn-edge or Cafe menu covers are made by sewing colored vinyl or fabric trim around the edges of the plastic menu covers. Metal corners are pressure applied for re-inforcement and to cover the cut edges of the trim.
Gauge is the weight of plastic used in the manufacture of heat sealed or cafe menu covers. The higher the number, the heavier the weight of the plastic. 8, 10, and 12 gauge are common weights used for these products.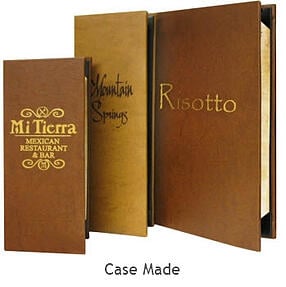 Casemade or Casebound menu covers are hard cover menu books with page mounting boards or clear plastic pages on the inside. They may have trim sewn around the edges and metal corners, and they are usually custom made so you can have a logo imprinted on the front cover. Foam padding adds a luxurious touch. Cover materials may be colored paper with a plastic coating, fabric, vinyl, faux or real leather.
Binders are hard covers with screws or rings to hold plastic pages inside. Outer covers may be heat sealed or casemade. This cover style is best for very large menus as binders can carry more pages with less weight than other styles.
Page Mounting Boards are inner pages of casebound covers which are made from covered cardboard and have strips along two edg
es or album style corners to hold the menu pages in place. Menu pages can be protected with clear plastic sheets.
Pajco or Flexible menu covers have outer covers made from heavy colored plastic (Pajco) which is slightly flexible and can be imprinted with a logo. Edges can be clean cut with rounded corners or sewn with matching vinyl or fabric trim and finished with metal corners. Inner pages can be plastic sleeves or you can fold your menu pages and hold them inside the cover with a decorative elastic band.
Menu Covers - Layout and Configuration
Booklets have pages like a book
Trifold menu covers have the same capacity as a 3-page book, but the pages are laid out side-by-side, so the menu opens up flat.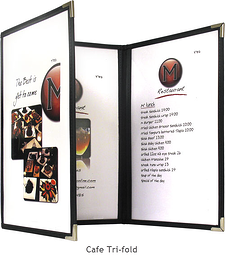 Gatefold menu covers are made with half panels on the front which open outward like double doors. These are generally casemade menu books, but custom menu covers manufacturers can make cafe style gatefold covers.
Views – before you order menu covers, count the number of pages (or views) you will need to display, including front and back covers and inside pages. Order by number of views, not the number of pages in your book. Solid front and back covers will reduce the number of views you can display. Some styles allow page inserts inside the front and back covers, but others do not.
If you are not sure what to order, ask. Many companies have real people who answer the phone, and they will be happy to answer questions or refer you to a web page or send samples of their products. Ask about terms that you don't understand – it could make a difference when you open that box of new menu covers!
About the Author
Becky Armstrong and her husband, Ron, are the owners of ClearGuard Products, Inc., a menu covers manufacturing firm located in rural West Texas. She has worked in menu cover sales and customer service for 11 years. Becky knows first-hand how menu covers for restaurants are made and at crunch times might be found working in the production areas. Most of her time is spent on the phone educating restaurant owners about the types of restaurant menu covers available and helping them make a selection best suited to their budget and their restaurant style. For more information about ClearGuard Products and their custom American-made menu covers visit http://www.clrgrd.com.