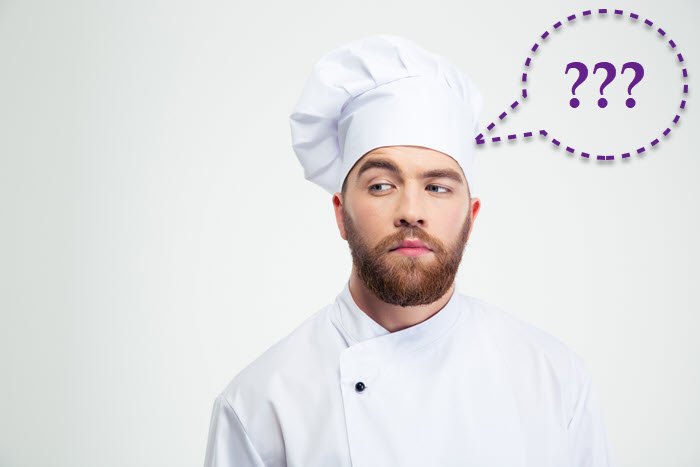 Consider the story of "Ted," a restauranteur with a great menu at his cozy little café in an upscale strip-center in the Denver area.
If it's a slow mid-afternoon lunch shift, Chef Ted might pop out into the dining room, wiping his hands with a clean white towel, and visit with you a bit while you enjoy your succulent chicken coq au vin.
"How's business?" you might ask.
After all, you're one of only a couple of customers enjoying this fabulous dining experience, and you might fret a little over whether Ted is going to hang in there much longer.
And you'd kind of like to keep him in the neighborhood!
Ted's answer to your simple question – and the ensuing conversation – might spark an idea. Especially if you happen to be one of the city's leading large-format printing and signage experts.
Ted might be able to use his beautiful picture windows to help him generate more business!
Beautiful Representatives of Your Business… And 24-Hour Silent Salespeople
"Well," Ted says, a heavy sigh in his voice, "look around. You can see for yourself. It's slow today, but truth to tell, it's pretty slow most days."
You do take another look around.
"I don't know why more people don't come in here," you might say. "The food's great, the service is great… even the view of the mountains through those spectacular windows up-front is… is… well, it's spectacular!"
Ted heaves another sigh.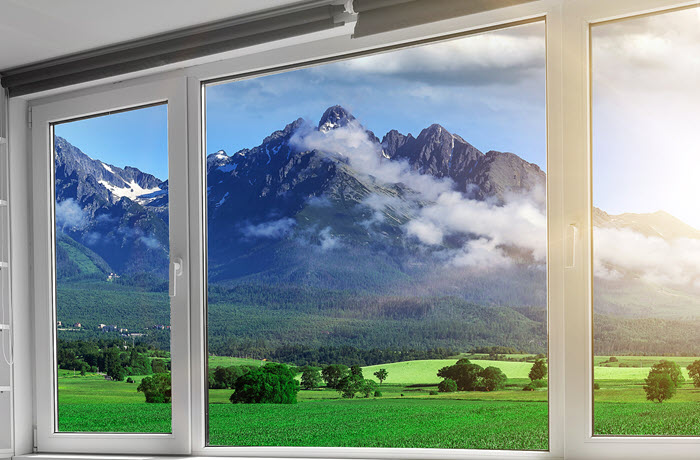 "True," he says. "And thanks for the compliments. But I wonder if those windows aren't doing more harm than good. Plenty of people walk by outside… but when they look in and see only one or two customers… or maybe none… I bet it discourages them from giving us a try."
You give that a little thought.
And then you suggest eye-catching window graphics to cover those windows.
Vivid pictures of some of Ted's mouth-watering dishes, displayed in larger-than-life fashion that could attract motorists and pedestrians alike!
Maybe a photo of a table set for a special occasion, with inviting wine and candlelight.
And how about some elegant graphics… maybe even a couple of brief testimonials from the café's enthusiastic customers?
As you talk about the possibilities, you can tell Ted's intrigued.
Market the Business Without Marring the View
"But what about that spectacular view you mentioned?" he asks, with a pensive stroke of his chin whiskers. "I'd hate to lose that."
"Heaven's no," you might respond. "You sure don't want to lose the view!"
But you tell Ted that, with today's high-resolution window graphics, designed and installed by a quality professional sign printer, he won't have to sacrifice the view.
"You'll still be able to see out, and enjoy the view," you say. "But people won't be seeing in."
People won't be looking in at the dining customers (or lack thereof).
They'll be admiring those fantastic photos.
And salivating.
And the Shade Might Come In Handy, Too
While Ted considers this idea, you look around again.
"I notice the tables near those windows are empty."
"Yes, well, it's the afternoon sunshine," Ted replies. "Most people don't want to dine with the sun beating on them… at least, not indoors. You seated yourself back here in the shade, too, didn't you?"
And you had.
You agree that the brightness at those front tables was a bit off-putting.
"I've got great blinds I can pull down, if it were to get busy and those tables were occupied," Ted says. "But again… the view…".
Then you see Ted's eyes widen, as another thought occurs to him.
"Do those window graphics provide shade, too?"
They sure do, you tell Ted.
They sure do.
Professional window graphics
They can solve a lot of problems for certain businesses… and they can be great 24/7 advertisements for just about any business. Your windows are just sitting there. Put them to work helping your bottom line!
Author Bio:
This is a guest post by Tim Eunice, the owner of The Visual Edge Signs and Designs a signs and graphics company in Denver. Our staff has a combined 25 years of experience in the sign, graphics and large format printing industries.