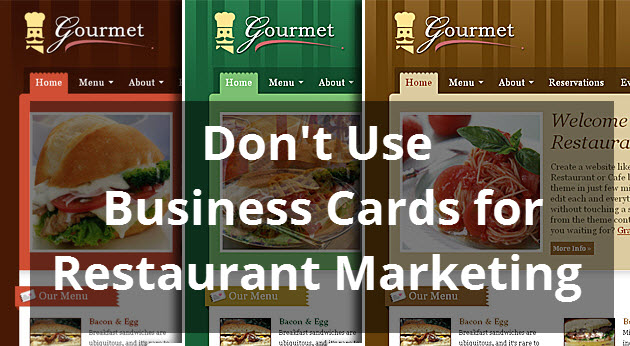 Why do you have a business card? What is the purpose of spending money to have a company print business cards? The intent today is to change your perspective.

Over the many years in the restaurant business, the only people who wanted a business card were people who wanted my time or money. Think about what a business card truly does for you in your restaurant business.

It provides your name, email, phone number, website address, online ordering site, fax number, name of business, title and of course the address (for snail junk mail?).

Since you are in the restaurant business, the game is NOT the same as other businesses. And think about whether you have many of the tools others do. To create a gourmet meal, it does not require any of these items which are found on the business card:
Do you have a website?
Do you have online ordering?
Do you have a fax machine?
Do you get the mail at your location or use a PO Box?
Is your title important and why?

Yes, when there is an issue or a big decision, people want to talk to the boss.
If each of the people you shake hands and/or talk to is a "probable customer", how will a business card serve the purpose?
Everyone gets a menu. Be sure the necessary information is on the menu so a probable customer can make an order, do a fundraiser with you, have a catering event, comment on your products / services, apply for a job.
Every person you meet and have contact with has a simple relationship with you.
They are a probable future customer. (or repeat customer)
They are a potential employee.
They are a current employee you are training & developing.
How can a 2 x 3 inch business card truly be a representation for who and what your business really does? It is better to have nothing and do something special for people to remember YOU than give them something that will not promote your unbelievable flavors and outstanding service.
Sales people want business cards. And when you visit other businesses, you should ask a business card to get an email address and other information. AND, if you are still looking for methods to push your sales to a new level, contact me.
You don't service probable customers in your restaurant / business with a business card. Nor does a business card make much impact on potential or current employees. Give something that represents the greatness of your business - like your menu.