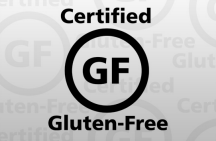 A favorite restaurant marketing tactic has been to focus on one person in a group with a special diet. Restaurants have new opportunities in the area of gluten free. The percentage of people who have an intolerance to gluten — about one in 20 — is not high. Even so, businesses should still go the extra mile in accommodating people who follow gluten-free diets.
Customers who follow gluten-free diets "tend to be a passionate group," - says Cynthia Kupper who is the executive director of Gluten Intolerance Group of North America.
Just as they will offer their praises and cash to businesses that accommodate their dietary needs, they will stir up trouble for businesses that put their health at risk with incorrect labels or sloppy food preparation. "We have actually seen groups [of gluten-free eaters] take companies out," said Kupper, referring to the efforts of gluten-free advocacy groups.
The Gluten Intolerance Group says: For every 1 person diagnosed with gluten intolerance, 80 people are undiagnosed.
---
Examples of Gluten Free Menus:
---
Guests may go with "Do It Yourself"
No worries. If it is too difficult to add new items to the menu which are more healthy for your guests, they are learning how to make their own gluten free meals, desserts and appetizers.
Good News, Bad News:
The many examples of gluten free menus is helpful for those who don't have time to be inventive. The many examples of gluten free menus shows the leaders have already moved forward and established a reputation.
"Restaurants with Gluten Free" is searched in Google alone about 74,000 times a month in the USA. This is an indication that someone is hungry. The bad news is that many restaurants won't go through the "hassle" of becoming certified or adapt their menus with gluten free items.
How to Get Gluten Free Certified:
The Gluten-Free Certification Organization (GFCO) is a program of The Gluten Intolerance Group®, also known as GIG®, and is a 501(c3) non-profit organization.
GFCO's Scientific and Professional Board review the practices of GFCO. GFCO inspects products for gluten and does not certify products for any other potential allergens. The contents of this site are not intended as medical advice.
Key elements of the GFCO process include:
Ingredients review, down to the original supplier
Onsite inspections by experienced, trained independent (third party) Field Inspection Agents
Product and ingredient testing using scientifically AOAC approved testing methods
GFCO certification mark located on product packages for easy identification
Another great resource is www.Celiac.com wheer all things celiac disease and gluten free can be researched.
The conversation of your guests goes like this:
What may be most important to remember is the conversation the potential guests have:
"Where should we eat?"
"I am hungry for steak."
"Where ever we go, we need to make sure it is a place with gluten free menu items."
Everyone nods their heads in agreement. everyone appreciates the need for good health. The whole group is willing to make adjustments.
Once you are convinced this is not only a great restaurant marketing idea but also an opportunity be of more service and make guests smile; you will think further about food allergies. Below you will find free resources to learn more about gluten free and food allergies.
Find general food allergy resources and information on a variety of specific allergies and sensitivities, including egg, fish, nut, soy, wheat, milk allergies and lactose intolerance
Food Allergy - An Overview (PDF|1 MB)
DHHS. NIH. National Institute of Allergy and Infectious Diseases.
Detailed information about food allergies and intolerances. Discusses diagnosis, how allergens work, and treatment.
Food Allergies: What You Need to Know
DHHS. FDA. Center for Food Safety and Applied Nutrition.
Learn about the most common food allergens, symptoms, and what to do, as well as how FDA has improved food labeling for allergens. Also in PDF|473 KB.
Food Allergies and Intolerances Resource List for Consumers (PDF|252 KB)
USDA. NAL. Food and Nutrition Information Center.
School Foodservice and Food Allergies: What We Need to Know (PDF|1 MB)
International Food Information Council.
Gluten Free Menus found on Google
If you Google "gluten free restaurant menus", you will find the pdf menus searchable and found by Google. This is one more opportunity to be found in a search engine.
There will be a of minimum competition since most don't believe offering gluten free will make a difference. That in and of itself makes it attractive since the gluten free demand continues to grow.