A Christmas restaurant marketing idea never came to you? You can use this idea next year of if you are scrambling at the last minute, this may be perfect.
The best way to leverage this restaurant marketing idea is by thinking ahead so you can coordinate the resources and the people.
Christmas Lights.
Bigger than anyone.
Better than anyone.
Be amazing.
What I love about this time of year as a restaurateur is how many of the staff are willing to participate and celebrate. As a result, it is easier to get a team together, buy lights, reindeers, Santas and make the outside of your business shine so special that people will say: "Did you see that magnificent Christmas display at YOUR RESTAURANT NAME"?
When the outside of the restaurant glows with excitement, send out press releases .(both locally and online) Here is a list of 54 websites for free press release distribution to announce what you have done and the purpose.
Once you get your restaurant looking amazing and people are making a special trip to view your business, contact the newspaper, do a fundraiser, support a local charity, recognize your staff, take photos, make a video, hand out special offers via fliers to the people gawking.
If you think ahead, you can start the decorations before Thanksgiving and taken down at New Years.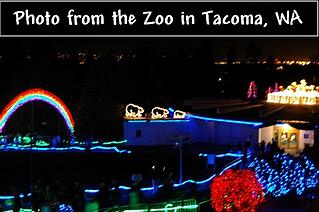 Before you say... "no thank you":
The zoo charges a fee to see the decorations and lights. People are standing in line every year (in the cold).
People are conversing about the best Christmas lights on Yelp.
People will use Google, Yahoo and Bing to search for neighborhood Christmas lights, best Christmas lights, etc.
Christmas lights can be stored and used year after year.
Buy the store out when the 75% sale happens the day after Christmas.
You don't have to install the lights yourself. Hire a local "Christmas decoration service person".
The landlords will have more flexibility during this time... it's Christmas.
You can bring joy and smiles to the community each year.
People will be taking photos of YOUR BUSINESS if you create awesomeness!
You can advertise business for free on internet via social media and local community forums.
Free press release distribution is available online.
If you did not have holiday marketing in your your restaurant marketing plan, its not tool late to start. If you have procrastinated and are wondering how to make a big bang, you still can.
If you think: "I don't believe it", then visit the local area where there are amazing Christmas lights and watch the number of people who visit.

Christmas is not the only holiday. Every day is a holiday. Start planning on how you will celebrate each day by using the information here: