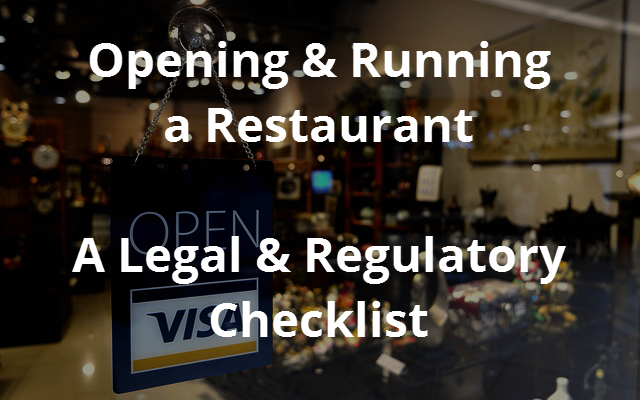 Looking to realize your dream and open a restaurant business? Now may be just the time to do it. Earlier this year the National Restaurant Association predicted that after a three-year period of negative sales growth, the restaurant business would post positive growth and reach a record $604 billion in sales.
Opening a restaurant or food service business requires research, planning, capital (not always as much as you think), business acumen, and perseverance. It also requires a number of legal and regulatory considerations, during both the startup phase and the lifecycle of the business.
Here are some tips for starting and operating a restaurant within the law.
Before You Open Your Doors
From zoning laws to negotiating a commercial lease and deciding how to legally structure your business, there are a number of legal decisions and steps you need to follow before you open your doors.
Zoning Laws –If you plan to build or refit an existing restaurant, check local zoning laws to see if there are any restrictions. Learn more in SBA's overview of Basic Zoning Laws.


Negotiating a Commercial Lease – Be sure you get the best terms out of your lease.


What Kind of Legal Structure Should You Form –You have a number of options, but most restaurants end up forming a Limited Liability Company (LLC). It protects your personal assets from any liability that the business incurs. If you plan to open in more than one location, set up a separate LLC for each location (only an individual restaurant's assets will be at risk in the event of a lawsuit). Structuring as a Corporation also provides liability protection, but corporations are more complex to run because they require a board of directors, shareholder meetings, and other administrative extras. An LLC also affords tax benefits. Always talk to a lawyer about the best option for your business. You can also read more about the merits and pitfalls of being an LLC or corporation in SBA's Incorporating your Business guide.


Licenses and Permits–Restaurants typically need a food service establishment permit, an alcohol beverage license, a general business license, and a food safety permit (more on that below). Use SBA's Permit Me tool to help pinpoint the exact licenses and permits you need based on your zip code and business type. If you intend to operate a mobile concession stand, you'll also need to get the right permits for the cities and counties where you operate, not just for your main business address.


Food Safety –While health codes vary depending on location, all codes require restaurants to safely handle, store, and prepare food. You will need to obtain a permit from your local environmental health department certifying that your restaurant has met county, state, and federal requirements. Plan ahead by submitting your application a month or so before opening. They will also require employees to maintain good hygiene. Restaurants are usually inspected once every two years after opening. Be sure to get a copy of your local health codes and refer to it frequently to ensure compliance.


Insurance– Restaurants are exposed on many fronts and can be vulnerable to injuries, medical expenses, and lawsuits. Insurance to consider includes property insurance, general liability insurance, and liquor liability insurance (without it you are responsible for any wrongdoing that results from alcohol consumption at your establishment, including drunk driving accidents). Most states require that any establishments holding a liquor license must carry liquor liability as part of their insurance. Many states also require you to carry workers compensation insurance.
Running and Managing Your New Restaurant
Once your doors are open, you'll find that the legal and regulatory requirements associated with running a restaurant are a big part of your day-to-day business operations. From labor laws that cover issues ranging as widely as tipping, overtime, food safety and hiring of minors, understanding and complying with legal and regulatory requirements can have a big effect on the success of a restaurant operation.
About the Author
Caron Beesley is a small business owner, a writer, and marketing communications consultant. Caron works with the SBA.gov team to promote essential government resources that help entrepreneurs and small business owners start-up, grow and succeed.