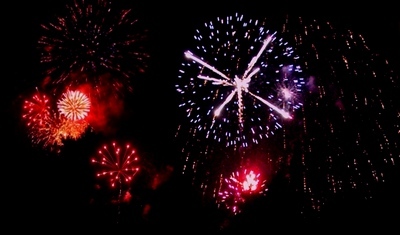 Guerrilla marketers see big opportunities every year when it is time for neighborhoods to celebrate with fireworks.
Each year people pause to search for where to see the fireworks. They are interested in the location/date/time of fireworks, but they are not easily found. The local newspaper becomes a popular tool to find fireworks but fewer people subscribe. For important things like fireworks, people search for "the best".
As mom and dad think ahead (about 2 days) and search the best options to watch the fireworks, they turn to Google.
Google will share every fireworks display since the dawn of the Internet and as the families search, there will be a bucket-load of websites with advertisements and incomplete information. Not only do the search results show the locations of fireworks display from yester-year but also from around the world. Too much information.
You can begin collecting information and start to develop a "list of locations for fireworks in __________".
Two things will happen next year for your summer restaurant marketing campaign.
#1 - You will ask if your guests would like a FREE map with locations of all the fireworks in the local community.
#2 - You will a page about the fireworks in and around your community on your website.
Here is where to start:
You can create your own map online.
This is FREE and requires no programming.
Google allows you to take their map and put your own placeholders in it. Create a map for the area you want to serve and be at the top of mind for.
This video shows how to create a map with Google maps and make your own fireworks location directory:
Go to Google Maps.
Sign in to your Google Account if you have not already done so using the link on top right corner.
Click on the My Maps link under the search box.
Click the Create new map button.
Add a title and description for your map. You can make your map public or unlisted. We'll make ours public so that it shows up in search results.
Click the Save button.
If your team can quickly collect every fireworks show that happened this year, you can easily set up for next year. You could also research last year's fireworks shows.
Be sure to have:
A page on your website with a page: "fireworks in

yourcity

".
A map using Google maps with fireworks locations marked.
A printed map to hand out in person.
In every case, be sure to add the invitation to take snacks, dining, late night picnics to the fireworks. Offer that special fireworks menu to enhance their experience will keep your restaurant in their hearts and minds for a lifetime.