Is signage a part of the restaurant marketing plan or simply looked upon as another piece of equipment? Are menus in a restaurant a functional tool or a powerful marketing tool to influence, persuade and grow sales?
Investing in new restaurant signs and menus can be a costly investment and difficult at times to measure the return on investment.
Sales improvement measurents:
New guests.
Guests return more frequently.
Increase the amount of each transaction.
Between these three sales improvement measurements, which would be more influenced by signage and menus?
The more obvious choice would be the third "increased transaction amount".
If this is the case, before you begin to change the interior signage and menus, begin to measure the average check on a regular basis. The successful restaurateur already understands this metric and tracks it diligently.
Once there is a history of accurate data, evaluating menu boards is the next step. Which menu board would maximize the guest check average? The trend has been to move into photographs and more recently into digital signage and menus.
To consider the menu board options we have called on Drue Townsend. Drue is the senior vice president of marketing at FASTSIGNS®, Drue Townsend shares with us her perspective on menu boards.
Menus Boards: It's not just what's on them, it's how they look too
by Drue Townsend
The menu is a restaurant's way of showing what they offer, and calling out features to help promote special meals or items. Making the menu boards visually appealing and easily readable are critical to a restaurant's success, especially for counter-service establishments. There have been many advances in custom printing and digital signage that can help you upgrade your restaurant signs and provide a better experience for your guests.
While there are many menu board systems, custom-designed menu boards for counter-service restaurants should give customers a complete, well-organized list of everything available with an appealing and branded look. Presenting the options in an organized and logical manner helps the ordering process move quickly and keeps customers happy. Custom shapes, back lighting and dimensional displays can help motivate additional purchases. Local sign and graphics companies can discuss the many options available with you to create unique and personalized menu boards that communicate quickly and clearly.
Another signage upgrade option is a digital menu board. These displays look sharp and are ideal for seasonal and rotating menus. As these displays are becoming more prevalent, the price for units is going down. Low cost systems are capable of reading slides from a data source such as a flash drive. Higher end players can be linked up to a content network that provides real time streaming video and images along with static menu graphics.
Consider updating your establishment's menu boards as an investment in providing your guests the best experience possible. A visually appealing menu board that clearly shows everything a restaurant has to offer is a great tool for building customer loyalty.
About the author
Drue Townsend is senior vice president of marketing at FASTSIGNS®, a visual communications services provider with more than 550 locations around the world.
The take away from Drue Townsend is:
Visually appealing and readability is critcial to success.
There have been advances in technology.
Local companies can help you understand more.
A sharp looking option is digital signage which is ideal for rotating menus.
Prices are going down.
Low cost systems can work from a flash drive.
More expensive menus offer video capabilities.
This may leave you with more questions. Let's dig into the topic a bit more.
How can a digital sign in a restaurant be used?
Display menu items
Promote events based on time of day
Broadcast educational programs
Reduce perceived wait times
Use for way-finding and directional assistance
Mix in news, weather and other programming as desired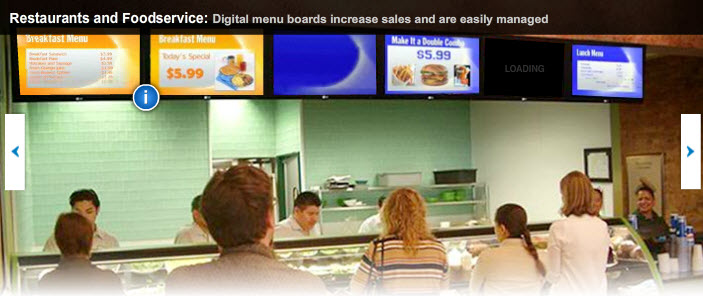 This is an example FASTSIGNS® shows on their website.
Consider the old style menu boards below and the potential impact a digital menu will have.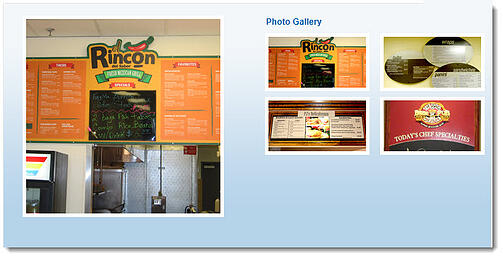 If the guest check average can improve 3% as a result of a menu board change along with an reduction in the cost of sales by 1% as a result of changing the menu mix, the new menu board and signage can play a key role in a restaurant marketing plan.
Weigh the investment into a menu board not as a cost for a functional piece of equipment but as tool to grow sales, reduce costs and keep a restaurant business healthy.
You might reach out to FASTSIGNS® but if there is not a location near you, here are other options:
The difficulty with the sign companies is that they are task oriented vs. results focused. The sign company typically does not understand your goals, the breakeven of your restaurant business or your marketing plan. Worse yet, any sign business will have marginal performers who punch the clock. They take your order and provide a service according to your specifications and take no reponsibility for success or failure.
As you use the search engines online to find the best restaurant menu board, think "marketing, guest check average, lower cost of sales and menu mix" when making your selection.