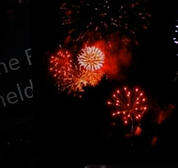 This is for the independent restaurant owner who at one time broke away from the pack and staked a claim in the restaurant business. Remembering a bit of the past on Independence Day may give a lift and inspire you along the journey.
The independent restaurant owner may feel a bit like the farmers in 1765. There are many days where it seems like a battle and the odds are against you. The pressures of the economy, government and changes in culture can add pressure to the already competitive business.
To remind you that the future is never predictable and the little guy can win, here is a video about independence and a few facts that you probably did not know.