What is Menu Management?
The restaurant industry is notoriously selective about adopting new technologies. Only truly revolutionary, business-building tools are worth the investment to integrate in a busy restaurant. Menu management service is one of those game-changing technologies. The core concept is to shift all of a restaurant's menu needs - designing, updating, printing, distribution - onto a web-based platform.
The profound benefits of online menu management include leveraging the power of menus to make sales, attract new customers and build loyalty. Menus that are managed online have potential to reach new audiences of web, social media, and mobile consumers. And perhaps most importantly for an overworked restaurateur, it eliminates some big headaches from traditional menu work. These services are relatively new and the offerings are sure to expand, but desktop menu publishing will soon be eclipsed by online menu management systems.
Finding Menu Time
A restaurant's daily operations can be so demanding on the cooks, servers and managers that nobody has time or creativity left for the menu. Old designs hang around for years while prices and plates change. With today's menu managers, the menu is editable online, so you don't have to be at a particular desk or office to make changes to the menu, and you can do the work when you have the time. Online menus are more secure and more convenient.
The self-guiding templates offered by companies like MustHaveMenus provide a specialized solution for quick restaurant menus. Unlike generic word processors, these programs help you plan, write and think in the context of menus, food, and restaurant branding. Much of the work is done for you.

Menu Design Expertise For Anyone
Not many restaurant owners moonlight as graphic designers. Many turn to friends or professional designers to create their menu look, but there is always a cost. A friend may design the menu in software you don't have, so it's difficult to update. Professional designers quote high service charges for original custom menus, and there are fees for updates, too.
With online menu creation, the restaurateur maintains long-term control of the menu without sacrificing the polished look of a custom design. Select a professional-quality design from a menu template library, then add the elements like logos, graphics, and items that make it unique to your brand. "With MustHaveMenus, I was able to find a new menu design and use it to create many pieces for the re-opening of our Tavern and Chalet," reports Matt Neely, Marketing Director of Mary's Lake Lodge in Estes Park, Colorado. "The whole experience was remarkably easy."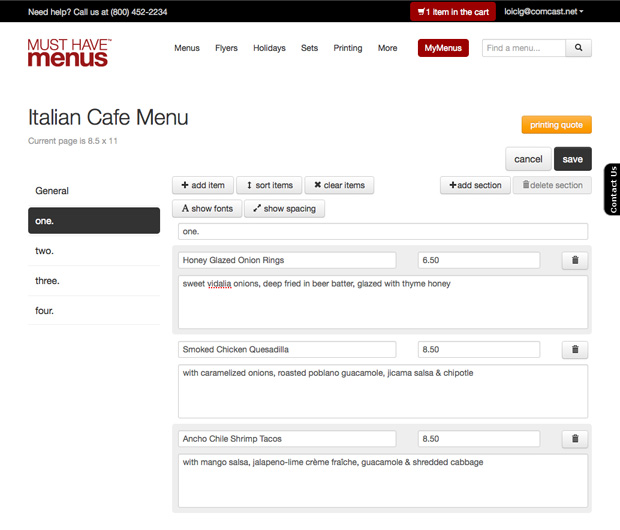 Getting Menus to the Masses
Web-enabled menus, social media menus, and online menu distribution– all of these can be afterthoughts for busy restaurants. They may appear to have no immediate benefit or the benefit can be difficult to measure. Even keeping menus current on your own website can be a challenge.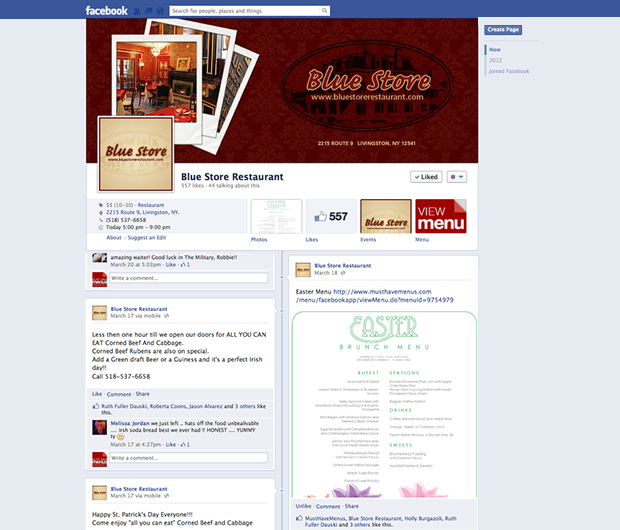 Now systems like MustHaveMenus can deliver both a printable tabletop menu and a digital version for your website, social media, and dining guides. This instant mass-audience publishing power has developed practically overnight, and it continues to grow at a furious pace, giving restaurants new opportunities for consumer exposure.
Save Money, Gain Peace of Mind
Traditional menu costs - from designers to printers to web developers and social media managers - easily stack up to thousands of dollars a year. The expense and time you'll save by using menu management technology can be better invested in building strong relationships with your customers. You'll have peace of mind knowing you've covered the bases with effective, accurate tabletop menus and the promise of growing business online.
While considering menu management options, watch the video from MustHaveMenus:

About the Author: Jim Williams is the CEO and Founder of MustHaveMenus.com. Jim is a serial entrepreneur with a passion for design. In addition to founding MustHaveMenus, Jim also co-founded Elli and Sharefaith. In 1997, he founded one of the first cloud-based CRM companies, MarketHome (CLAC, 1999). Jim is also an active angel investor.