Have you ever been to a strange restaurant where you are so perplexed that even bad service would not keep you from sticking around to see more?
People are are searching for a place to propose, have a first date, pull a prank on their mother, or maybe just bored and need a special restaurant to perk up their day? They search for a restaurant to impress others and get credit for having shared it.
To get you inspired, here are the 20 Strangest Restaurants Around the World.
These are only an example of how ridiculous a restaurant can be. It is also an example of how people share the unbelievable on the Internet.
As I updated this information five years later, four of the top seven no longer exist. This may be a case for "strange" does not create success... or not.
The first seven on the list of the strangest restaurants around the world:
Cabbages and Condoms:
(fortunately, this one no longer exists)
It all started when one of us was reading the manga, Dr. Slump on the toilet and the rest is history. In the beginning, we mainly sold ice cream in a big pile of chocolate ice cream sold in containers shaped like a squat toilet. This humorous spin became a great success. After much planning from all of our partners, we finally took the first step towards realizing our dreams in May 2004 with the launch of the Marton Restaurant. http://www.moderntoilet.com.tw/en/about.asp
Opaque:
(a mystery)
Arriving in Southern California on the crest of the latest dining trend sweeping through Europe, based on an ingenious European concept that has enjoyed great popularity in cities like Berlin, Paris, and Vienna the first ever "Dining in the Dark" experience in the USA is now available in Los Angeles, San Diego and San Francisco. http://la.darkdining.com/
B.E.D.:
(No longer exists)
Ithaa Undersea Restaurant:
(No longer exists)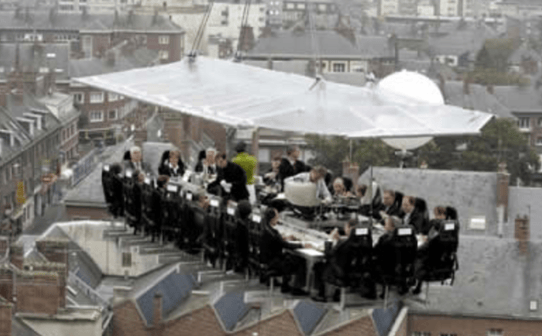 Based in Brussels the "Dinner in the Sky" restaurant can serve up to 22 brave people, 150 feet up in the air! The company who run the "restaurant" have developed a specialist crane that lifts a purpose built table and chair arrangement high into the sky. The restaurant can be pitched more or less anywhere that is requested across Belgium with popular destinations including nearby grand churches and overlooking lakes.

Seatbelts come as standard and diners are advised to hold on tight to their cutlery! http://www.dinnerinthesky.be/en/
--------------------------------------------------------------
These are too strange, even for me. It takes courage for a restaurant owner to stick their neck out (or toilet) and take a risk to make the world talk.
There is not a sales analysis or a profit & loss report available. The numbers will remain a mystery.
It is a reminder that people write about - and share - the unusual and amazing. I know this to be true from first hand experience. It is a good day to go from ordinary to unusual.