Turning occasional visitors into quality leads is a process that demands creativity from every brand – and it involves much more than having great products to display. You want to convey what makes your solution effective but also distinctive among the other options out there.
With the new challenges of the COVID-19 pandemic, many companies are looking for new strategies to promote their brand online. But evaluating all the available options and assessing the ones that best suit your needs can be a bit overwhelming for the uninitiated.
To make the task more straightforward for you, we've narrowed down the list of options into five crucial tools you should consider using for the consideration stage of your funnel: social media promos, sweepstakes and contests, video marketing content, and high-converting landing pages, and eBooks.
Understanding their strengths and learning how to leverage them to their full potential will help you bring your prospects closer to a confident buying decision.
Launch Exciting Social Media Promotions and Offers
At the consideration stage, prospects need an incentive to engage with your brand. As they interact with other companies and compare options, you get the chance to tell them that your brand has something unique to offer.
Social media promotions and offers allow you to do just that. As a way of introducing yourself to your customers, these are crucial tools in the conversion process.
They make your followers (including first-time visitors) feel special and loved! And used strategically, you can make the promos and offers reach your ideal targets.
Some of the most popular and successful ideas are:
Discount codes and coupons.
Limited offers like buy-one-get-one-free deals.
Recurrent promo cycles, which are perfect for encouraging brand loyalty.
Most users are already accustomed to discovering promos on social media. Some even expect it. So, if you are thinking about running a paid ad on Facebook or Instagram, this is an excellent opportunity to entice new customers with exciting offers.
Run Awesome Sweepstakes and Contests
If promos and offers are excellent for gaining visibility and new visitors to your channels, you can also create content to foster interaction with your existing followers. Services like ShortStack and Wishpond allow you to create sweepstakes and contests with great ease and little cost to you.
The idea behind these tools is pretty straightforward: users who participate have the opportunity to win a fabulous and exclusive prize related to your brand or product. The difference between the two is in the process:
Sweepstakes ask participants to sign up in a form for a period of time, after which a random winner will be selected.
On the other hand, contests require the user to submit a piece of content, such as a photo, posts in their stories, or even an essay. These will be evaluated by judges who, based on specific criteria, will determine a winner.
Whether you choose one or the other, it is important to encourage participation by keeping it simple. Keep your forms should be short, only asking for the minimum necessary information. Moreover, the rules for contests should be clear, and the submission process easy to follow to encourage participation.
Create Thought-Provoking Explainer Videos
Your brand is much more than a product. Whether we are talking about stories, relevant data points, or the science behind your product, you are in unique possession of information worth sharing with your prospects. But what is the best way to go about it?
Animated explainer videos are a great alternative to both social media posts and images. Their key value lies in video content's ability to condense large amounts of information into short clips. And given their fun nature, many users are more than willing to share these pieces on their channels.
Explainer videos are also versatile tools that can be adapted to all kinds of marketing goals. Some of the most popular styles include:
Whiteboard animations. Perfect for conveying (and illustrating) complex processes and products in hand-drawn, didactic animations.
Character videos. The use of likable, colorful characters comes in handy for telling stories and teaching important lessons as they put your viewers in the shoes of people who think and act like them.
Motion graphics. No statistical point or illustration should be boring to communicate—with motion graphics; you can transform analytical data into flowing visuals and shapes.
Use one of these styles when you want to have a memorable communication with your users.
Design Optimized Landing Pages that Convert
So far, we have mainly concentrated on tools you can use to improve social media engagement, which is a fantastic consideration-stage platform. But if you stopped there, you would be missing out on other great opportunities to attract others to your channels.
Luckily, by creating a cool landing page (now easier than ever with platforms like Kinsta and WP Engine), you'll have just the tool you need to help occasional visitors get better information about your brand and what you can offer them.
The key to a remarkable landing page that converts hinges on using all the critical design elements in the right way. Some of the essential include:
The visuals or video. Interactive content is vital to improving engagement with visitors. Professional photos and videos are an excellent addition to retain users and help them digest the information more accessible.
The copy. You want a direct and straightforward copy to give visitors all the details about your product. But do not overwhelm them with long chunks of text: break the information into bullet points and bold keywords to grab their attention.
The trust indicators. It is crucial to assure prospects that you are a credible provider. Testimonials, reviews, and trust badges are among the most useful elements you can use for social proof.
The CTA. Give one clear call-to-action so that users know the next best step to take. Your CTAs should stand out—when possible, use big buttons and contrasting colors.
Produce Insightful eBooks and Downloadable Written Material
Now that we are talking about your landing page and website, it is essential to know that you need to provide value in those places. You want to offer content to your audience that allows them to see that your brand stands out in expertise and reliability among all the providers out there.
eBooks and written guides are a fantastic solution to bring your audiences ever closer to your brand. These are a great gift to encourage your visitors to sign up to your email list and keep up to date with your news.
Some marketers dread creating eBooks, as they think these require a lot of work. However, this should not necessarily be the case: you can always take your already published content, repurpose it, and expand it to adapt it to the new format.
Similarly, there are no absolute rules about how long or deep your content should be. Depending on your audience and niche, you can take great subjects (such as, say, education or marketing) or create practical guides to give your readers insights to apply in their day-to-day lives.
In Conclusion
Social media is often the place where your audience is most active during the consideration stage, so you need to produce content to encourage interaction and conversions. While promos and special offers are a great introduction to your products, sweepstakes, contests, and animated videos work best to generate engagement with your brand.
When prospects come to your website, make sure you are prepared. Effective landing pages and eBooks convey an image of professionalism and trust.
Try one of these tools, and you will see your influence grow tremendously in the online business world.
About the Author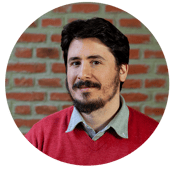 Victor Blasco - CEO | Marketing Strategist - Yum Yum Videos
Víctor Blasco is the founder and CEO of the explainer video company Yum Yum Videos. He is also an audiovisual designer and video marketing expert. Aside from running the business, he loves studying Chinese Philosophy and is a real geek for science fiction films and comics!