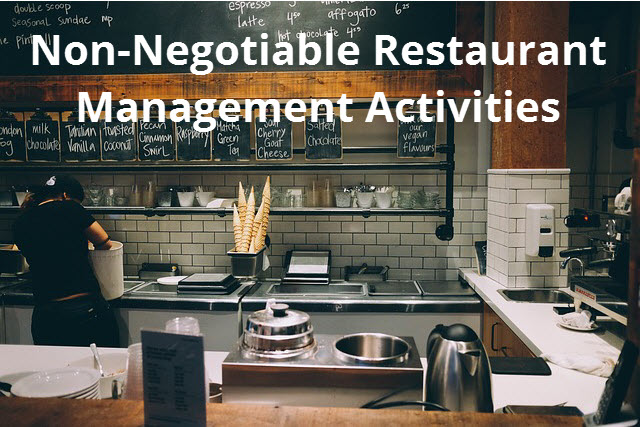 What daily & weekly non-negotiable tasks are included on a restaurant checklist?
Below is a list to get you started. These can become barriers to restaurant marketing opportunities. This free restaurant spreadsheet can make it simpler but does not help you overcome the barriers.
Here is a non-negotiable list of weekly restaurant management activities:
Controls
Food Orders (per par system) 2 times/week
Check In / food orders / label / store / rotate 2 times/week
Inventory / key punch and problem solving
Daily Inventory Critical Counts / entry / calculation / analysis
Daily Cash Accountabiltiy follow-up
Daily Deployment / adjustments / prep list / Operation Checklist
Go to bank (at least twice a day)
Review daily / weekly flash / metrics results / tracking
Schedules / Planning
Promo / discount / Coupon / Ticket - Daily accountability / Audi
People Support
Weekly In-Store management meetings
Communication notes / log book / read - write
Weekly meetings / In-person or call
Communication with Boss
Developing Team / Training / Follow up
Interviews / References / Orientation / New crew entry
One on One training for crew (including new product roll outs)
One on One conflict resolutions / coaching
Other Items
Weekly Maintenance (general equipment)
Any Business calls
Emails / Read / File / Respond / Communicate / Post
Weekly misc. store purchases / errands
Filing / Documents / Transmit / Update Bulletin Board
LSM or Guest resolution / contact


Guest Contact? Pre- During- Post of Meal

How much time it takes to support:
Production / Serve / Dishes / Cleaning / Server / Prep / Cooking Guest Contact? Pre- During and Post the guest's Meal.
Anyone in a restaurant operation, at any level, can feel "over burdened". Download the spreadsheet, input YOUR estimates and evaluate who is doing what for how long.