Can it be true that restaurants do more harm than good in regards to people's health? How harmful is processed food? If the average person eats only processed foods and very limited whole foods, is there an ethical consideration?
With the baby boomer population growing and generation X population watching over their kids , there is a growing interest in healthy restaurants. To top it off "the reporters" are writing about the negative impact restaurants have (especially fast food).
An example is on HelpGuide.com which gives tips for how to make healthier fast food choices: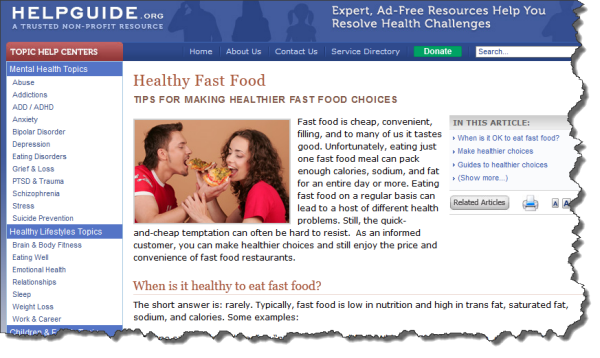 We are already aware of the government adding to the rules for nutrition:
Food Labeling and Nutrition Overview from the FDA:
FDA Food Labeling addresses the labeling requirements for foods under the Federal Food Drug and Cosmetic Act and its amendments. Food labeling is required for most prepared foods, such as breads, cereals, canned and frozen foods, snacks, desserts, drinks, etc. Nutrition labeling for raw produce (fruits and vegetables) and fish is voluntary. We refer to these products as "conventional" foods. For detailed information on dietary supplements, a special category of products that comes under the general umbrella of foods, but which has separate labeling requirements, see "dietary supplements."
Recent Announcements by the FDA:
Opportunity:
If there are enough people thinking twice about fast food and if you believe more will write about the "good vs. the bad" restaurants which serve healthy and non-healthy food, new opportunities may already be available.
It seems to me that taking the menu in a positive direction and highlighting the healthy aspects is an opportunity for the many reporters, writers and bloggers to shout about. Thus, "word of mouth" continues to be a primary means of growing sales. (though certainly different than the days before the Internet).
Restaurant marketing within the menu itself is not new. Now you have others writing, making videos, doing their own restaurant reviews. Giving others a reason to cheer only makes sense.