Here are eleven great webinar software options for your online meetings, conferences and webinars. The good news: Several are free to use. The list of online webinar software is in no particular order. Of course these tools are perfect for your inbound marketing plan and will no doubt inspire many new guerrilla marketing ideas. (The list has grown beyond eleven and yes, I saved the best for last in the list below).

ezTalks has an interesting new feature: Set up paid webinars via PayPal integration to monetize your expertise. Attendees can pay to access your webinar in a simple and secure way.
ezTalks is proud that they have 100,000,000 minutes of video webinars every year in 195 countries.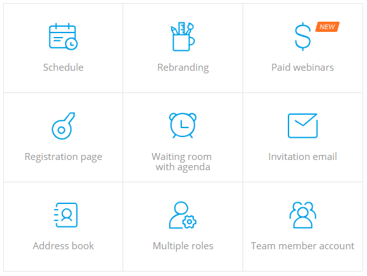 Pricing starts at FREE.



Instant screen sharing

Get everybody on the same page, when they're not in the same room, instantly. Review documents and designs. Train staff. Demo products or just show off. join.me is a simple screen sharing tool for meetings on the fly. Powered by LogMeIn.
join.me includes:
internet calling

screen sharing

250 viewers

share control

multi-monitor

chat

send files

viewer: iPad/iPhone or Android



A newer entry in the marketplace may seem more risky. In reality, this is a great opportunity for a company to enter the market with improvements on what others offer - and include the latest technology.
Livestorm offers unlimited webinars, unlimited registrants and all features available to every plan. The only limit will be the number of live attendees for each level of service.
Unlimited HD webinars - Do as many webinars as you want. Do them in high definition (depending on your bandwidth).
Q&A during webinars - Attendees can upvote any relevant question. Choosing questions to answer just became easier.
Replay - Your webinar is automatically recorded. People who didn't show up can view a replay of your webinar.
Custom branding - Your brand needs to be identified in seconds. Add your logo, a cover image and your colors.
Iframe mode - You can choose to integrate a YouTube live, Twitch, Livestream or many other live video streams into your webinar room.
Integrations with your stack - Getting data is one thing. Making it actionable is another. We provide integrations with more than 500 apps through Zapier.
Many more features are available to appreciate >
If you scroll down the pricing page, they offer a helpful comparison chart. https://livestorm.co/pricing
Watch an overview about Livestorm from 1WD University:
Starts at $99/month. There is a free trial option.,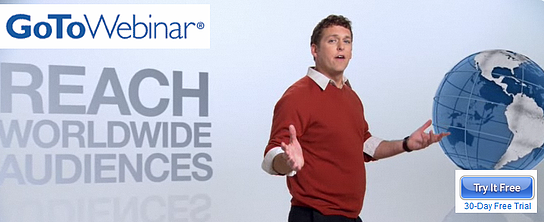 With GoToWebinar you can conduct do-it-yourself webinars with up to 1,000 people – all for one flat rate. Reduce travel while reaching larger audiences around the world.
Set up a webinar in minutes – without IT support.

Generate more qualified marketing leads – for less.

Present to hundreds of people from your Mac or PC.

Save with integrated audio conferencing (via computer and telephone).
GoToMeeting integrates directly into the Hubspot all-in-one marketing software system.

The theme is "Type Less. Talk More!" and its aim is to revolutionize the social networking world. With world-class bridge capabilities, an unlimited number of callers can enjoy stellar audio quality at Concert-oh. Currently, the site can simultaneously service web cameras, audio conversations, document, photo and desktop sharing, text chatting and more from separate locations. Users of the site can experience web-based virtual meetings, with multiple attendees, from any computer.
Experience Integrated Audio, Webcam, Chat.
Desktop and Document Sharing.

Record and Playback options.

Their goal is to create solutions—for any device and any content—that bring people and businesses closer together than ever before. Fuze has been awarded 24 patents and has 42 more pending in the fields of telephony, web and visual media technologies.
Does Fuze offer Webinars? Yes, Fuze supports Webinar mode with 100's of participants and our Events product with greater capacity and event registration is coming soon.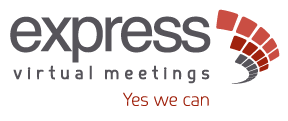 host team meetings
give sales presentations
demo products and services
provide online training
share documents
Hold high-impact live or on-demand online events with up to 3,000 attendees. All Cisco WebEx Event Center plans include unlimited online events, high-quality video, integrated voice conferencing, and the ability to record events for on-demand viewing.
WebEx Event Center Product Features
Up to 3,000 participants
Multi-media content sharing
Registration and campaign management
High-quality video
High-quality voice conferencing plus broadcast audio
Threaded Q&A, chat, polling and
attention monitoring
Private prep room
Localization for twelve languages
Webex integrates directly into the Hubspot
all-in-one marketing software system.



What you get:

Unlimited FREE meetings
Up to 96 participants
Meet anytime, anywhere
FREE audio conferencing
Design your own lobby
What you can use it for:
Online presentations
Sales presentations
Product demos
Webinars
Training
The downside: If you hope to be impressive and show a serious commitment, using a tool that tells participants right up front that it is "free" may not be your first choice.
Full Featured Web Conferencing
Hold Large or Small Meetings
With meeting sizes of up to 200 participants, you can host a large webinar or a small collaborative online meeting.
Share Your Screen
Your audience will be able to see anything you choose to show them on your screen, so it doesn't get any easier.
Send Meeting Invitations & Create Custom Registration Forms
Simply enter the emails of your participants, and they will be sent a link to join your webinar, along with time, date and instructions to join.
Live Video Conferencing
Use your webcam to add that personal touch, it's almost like being there in person. Up to 6 people can video conference simultaneously.
Record Your Meetings
Want to record a live meeting? Just click the record button during your meeting. They host your recordings so you can share them easily.
Pricing starts at $48/month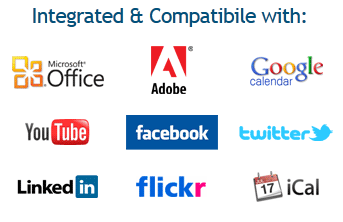 ClickWebinar top features
Unlimited webinars
Room rebranding
Surveys and presentations
Webinar recorder
Interactive whiteboard
Audio & video conferencing. Power up your online meetings.

Moderated and private chat. Manage your online discussions.

Webinars recording. Record, download and share.

Starts at $30/month.

Non-Profit Organizations, there is a special offer for you! 40% discount for non-profit organizations to help you expand and achieve your vision!



ReadyTalk's web conferencing services are designed so that meetings, sales demos, remote support and training sessions are easy to schedule and conduct.
Present the audience with poll questions
Control the audio all from a single interface
Share applications or your desktop
Chat with meeting participants and more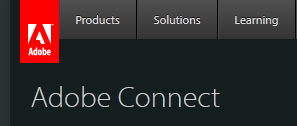 Adobe® Connect™ is a web conferencing platform for web meetings, eLearning, and webinars. It powers mission critical web conferencing solutions end-to-end, on virtually any device, and enables organizations from leading corporations to the U.S. Department of Defense to fundamentally improve productivity.
StartMeeting Offers Conference Calls or Conference Calls with Screen Sharing
StartMeeting, to allow you to Share Better at a fraction of the cost! StartMeeting is a new audio and web conferencing service that incorporates state-of-the-art features including screen sharing; easy-to-use meeting recording; and a customizable online Meeting Wall.

StartMeeting is offering customers the audio and web service for significantly less than similar services. Prices for screen sharing start at $19.95 per month for a 50 participant capacity. This is compared to $39 for 15 participants at GoToMeeting and $49 for 25 participants at WebEx.
Features:
Cloud-Based Recording: User-friendly simultaneous recording of screen sharing and audio meetings, and files can be shared via Facebook and other platforms (Windows and Mac).
Synchronized Audio Conferencing: Reservationless calls include toll, toll-free, and an integrated high-definition VoIP platform — all with a dedicated access number.
Dedicated Meeting Credentials: Unlike some other audio/web services, hosts are given exclusive credentials to set up their meetings that never change.
Screen Sharing: Unlimited screen sharing of content. Subscriptions are offered with 50, 200, 500, and 1,000 participant capacities.
Meeting Wall: Customize it with colors, logos, profile pictures, and upload files or links that support the online meeting (without emailing the documents to participants).
Audio Web Controls: Mute, lock, identify or disconnect a caller; enter lecture mode (one-way communication); and hold Q&A Sessions with participants.
Enhanced Audio Features: Customize hold music and a greeting for participants entering the conference.
Have an online meeting, give a presentation, or provide remote support with Mikogo.
Get a free Mikogo account today and benefit from the following:
Start sessions with just 2 mouse clicks, up to 25 participants per session.
Award-Winning HTML Viewer - join sessions straight from your browser. No software downloads required.
Go Mobile! Meet on your iPhone, iPad or Android phone/tablet.
Starts at $14/month.



I have stopped using other tools and now use Zoom exclusively. It is a video conferencing and web conferencing service that is simple to use, starts free and offers a very reasonable price point should you upgrade.
Sign up for a month, use it for your special event and cancel your account. Great software, great service.
How do you use it? Check out this video:
Which to choose?
While I like Zoom.us, I also have appreciated the power and simplicity of Join.me. Your best choice depends on your audience, size and whether they are more familiar or complete strangers. The more popular options may not have as many features but may be more comfortable for people to sign up. Test, test, test. There is more to a successful webinar than the software. Be sure to check the the speed of your Internet.
updated 1-13-2019