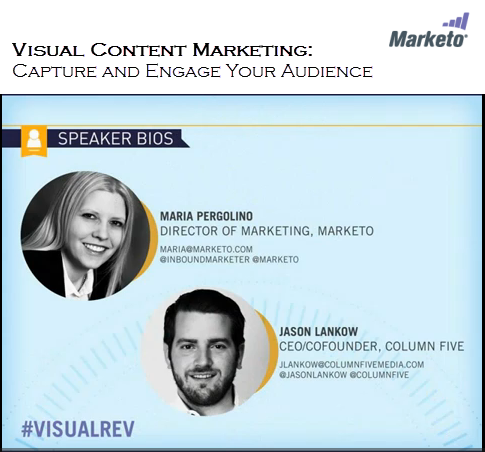 It's obvious that visuals are a necessary part of a success formula for marketing online. With so many options to "add an image" or "post a video", images stand out dramatically vs. bad graphics (or no graphics).
What was once interesting and new is now 'old hat' and in fact look like a pair of worn out old shoes.
Reasons visuals are valuable:
Take less time to read/review/consume
Less complicated
More emotional
They are shared more
The channels for sharing are plentiful (and easy)
They are proven to be more memorable
Offers more SEO juice
You can validate the value of your content by making it visually attractive less expense and time than you might believe. Your plan will include infographics, video, visual note-taking, memes, and even Instagrams in your marketing campaigns.
Join Maria Pergolino, Sr. Director of Marketing at Marketo, and Jason Lankow, Co-Founder and CEO of Column Five Media raise the bar for marketing online (and offline) in this on demand video:
Special notes to consider:
Linkedin has recently added the option to add images and video.
Twitter has the option to add photos or videos.
Pinterest of course is all about the show with images.
Video sites offer an opportunity to touch both the heart and mind. (Youtube, Vimeo, etc)
Facebook continues to be the leader with photo sharing.
While the thoughts and ideas about improving visual content marketing are sound, to execute with better visual content is not as simple as it appears. Understanding the buyer first is imperative or you will lose them as quickly as you found them. Visuals can be helpful but the persona of the buyer is most important. If they want text, give them text.
Before you share, consider what others might do. Plain and ordinary may not get shared even if a genius created the content.