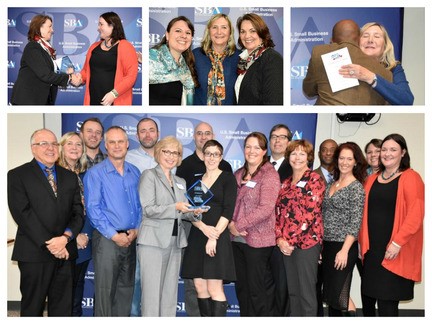 Small business owners begin the journey with hope and determination as they overcome fears and persist regardless of barriers. Fortunately, there are support programs to ensure success.
Fifteen small business owners across the state of Washington graduated from the SBA Emerging Leaders program, a seven-month executive education program for local business on the brink of growth.
"Small business owners often know where they want to take their business, but struggle with how to get there. The Emerging Leaders initiative provides the tools and expert guidance to spark sustainable growth," said SBA Seattle District Director Nancy Porzio.
According to Seattle Emerging Leaders Instructor Mary Marshall, "every $200 the SBA invests in the Emerging Leaders program creates a new job in the local economy."
As you read the names and businesses of the graduates, remember how recognition, celebration, and congratulations are as easy as:
Picking up the phone.

Sharing a blog.

Pointing others to their business via social media or email.

Making a comment on their social media accounts.


Sending a personal "Way to go!" card in the mail. (Yes. The mail)
Or if you are local, you may decide to visit in person on the way to your next destination.
The SBA has done the work and made the announcement. I have added website links for you to click below. It takes less than five minutes to make an introduction and make their day.
Congratulate the 2015
SBA Emerging Leaders graduates:
Bremerton
Everett
Kirkland
Redmond
Renton
Seattle
Yakima
Spokane
Tacoma
Woodinville
As a result of connections via celebration, I have amazing friends, awesome customers, and valuable collaborators. Introductions and invitations change the world.... here is an opportunity for you to to do the same.
For more information about the Emerging Leaders initiative – including applying for the 2016 class – visit www.sba.gov/emergingleaders.
Photos:
(top left) Porzio presents Lawrence with trophy; (top middle) Economic Development Specialist Melanie Norton, Marshall, Porzio; (top right): Gebretsadik hugs Marshall; (bottom) 2015 Emerging Leaders class in Seattle.
About the U.S. Small Business Administration (SBA) Seattle District Office:
The SBA Seattle District serves Washington state and northern Idaho with office locations in Seattle and Spokane. Today's SBA stands for more than Small Business Administration; it stands for Smart, Bold and Accessible. SBA staff provides resources and services in three areas referred to as "the three C's" – Counseling, Capital and Contracting. Visit www.sba.gov/wa for localized information including resource partners, lenders, events and workshops, success stories, news and updates, and other information aimed to help business start, grow and succeed.