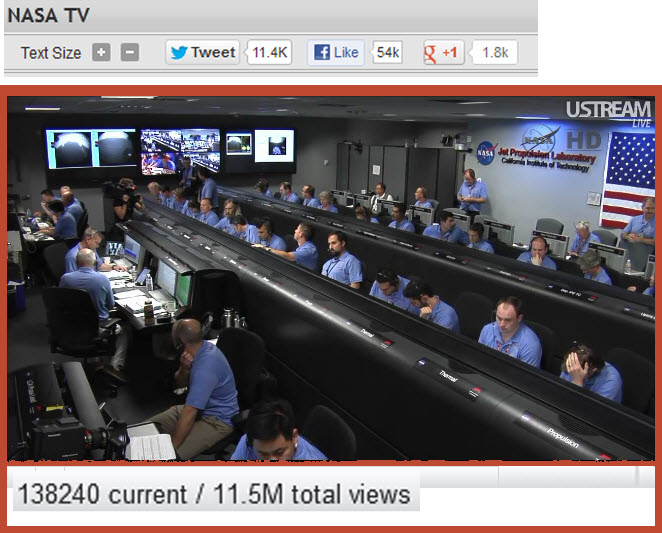 Will the Internet soon be on Mars? NASA Television in High Definition on UStream has already been viewed over 11.5 million times and as of this moment, there are over 138,000 viewers watching the high definitiion stream via UStream.
This is LIVE Streaming video from NASA:
Reality on Earth will become just a little less important for those with a passion for science fiction, Mars and Star Trek. Will they find signs of intelligence on Mars? (Many are asking the same thing about Earth now.)
Think about the planning and testing that went into creating the Mars rover "Curiousity". Never having been to Mars, they still had to anticipate every potential issue in advance. Outside the box thinking, brainstorming and robust dialog about potential little green men is part of the process.
Look at what they built: (how many cameras do you count?)
There is little likelihood that you will have as much attention for your business with millions watching the live NASA feed. You better look busy and don't lose your cool as those world watches.
Make a note of how many Tweets and Facebook Likes you see reletive to the number of views. The Facebook Likes are only .4% of the total views.
The biggest take-away is "live streaming video" on UStream.com is now in HD and with the faster Internet speeds in 4G LTE on the mobile devices, anyone has the opportunity to take a moment and catch up. The reality has changed where everyone can be connected and if you have something awesome enough to share, they will tune in and want to be a part of it.
Curiousity Lands on Mars:
Will you:
Create a celebration card?
Write an article which shows how your business is connected to this mission or Mars in some way?
Learn facts about Mars that few know and use them as conversation starters in networking events?
Tell a story about how your vision is to own a business on Mars?
Add a product or service which is "Mars" related to signify how far you go, how much planning you have and how deep your team thinks?
Moments in history should be causing you to pause and reflect. Stephen Covey passed on recently after a bike crash. He would be the first to tell you to "Sharpen your saw."
This may be a good time to reflect on whether your goals are lined up with your planning process, the talent and placement of your team and if your commitment is enough.
I am curious about the revelations people will have as a result of this news. It will be sad if most keep their head in the sand and make it just another day.
11.5 viewers and growing on the LIVE streaming video via Ustream.com should get your attention and it just became more difficult to impress.