Test website load time with these free software tools from Google or Pingdom. The debate about what page elements and/or widgets on your website effects the Google rankings continues. Google talks about website speed vs. ranking and says that sites with delayed load time will effect the rankings in search engines results pages. The longer your site takes to load the lower the rankings will get in Google.
While site speed is part of the consideration, it doesn't carry as much weight as the relevance of a page.
How to Test Website Load Time: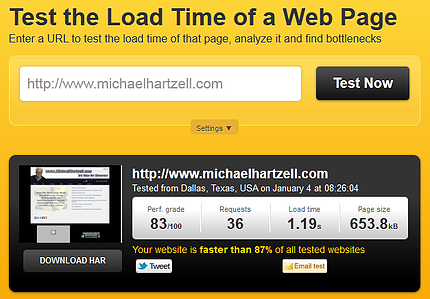 Pingdom is simple, fast and easy to implement.
How it works
All tests are done with real web browsers, so the results match the end-user experience exactly. They use many instances of Google's Chrome web browser to load websites, record performance data, etc. The tests are done from dedicated Pingdom servers.
Pingdom Overview:
Pingdom examines all parts of a web page – View file sizes, load times, and other details about every single element of a web page (HTML, JavaScript and CSS files, images, etc.). You can sort and filter this list in different ways to identify performance bottlenecks.

Pingdom performance overview – Pingdom automatically puts together performance-related statistics for you based on the test result

Pingdom performance grade and tips – See how your website conforms to performance best practices from Google Page Speed (similar to Yahoo's Yslow). You can get some great tips on how to speed up your website this way.

Trace your performance history – Each test is saved for you so you can review it later and also see how things change over time (with charts).

Test from multiple locations – You have the option to see how fast a website loads in Europe, the United States, etc.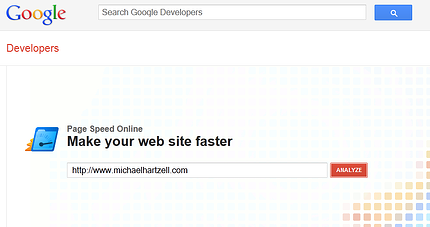 What is Page Speed Online?
Page Speed Online analyzes the content of a web page, then generates suggestions to make that page faster. Reducing page load times can reduce bounce rates and increase conversion rates. Learn more
What's new in Page Speed?
Page Speed Online graduated from Google Labs New!
Page Speed suggestions tailored to mobile sites

The Google Page Speed test tool offers three levels of priority and gives specific tips for how to improve the website speed.

How fast is fast enough? That will be the ongoing question and as tech gets faster, mobile becomes more important and as TV blends with the Internet... the speed required will continue to increase.