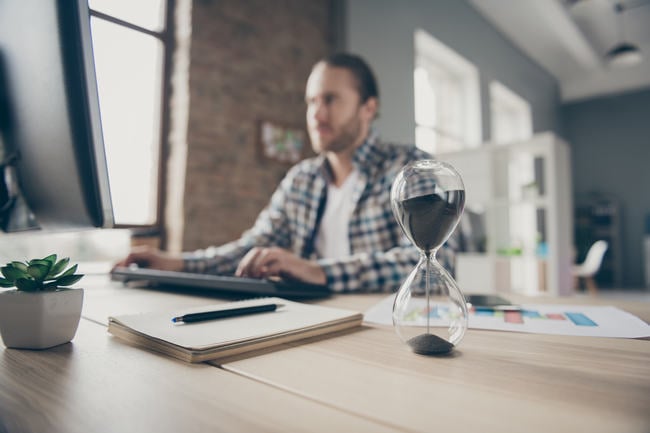 It makes sense to create content to help those you serve understand more, to make better decisions. How long should it take to write a blog? (by an someone experienced?) Is it true that it should take 3.21 hours average to write a blog post?

Answer: Yes... 3.21 hours average is a good estimate.

or it could take:

5 minutes.
30 minutes
5 hours
10 hours
and more...
All true.
The audience, the purpose of the blog post, the mechanisms, the type of blog post, and the process are a few factors. "Content" takes many shapes/forms. and each piece of content posted has a purpose.
Here are factors that influence how much time it takes to write a blog post:
How technical the post is. (which may require more research and citing.)
How familiar you are with the topic.
How fast you type. (Improve typing speed at TypingClub free)
How much effort you put into SEO, keyword research, SEO friendly headlines, & titles.
Adding images, graphics, videos or audio.
Your "perfectionist gene."
Perspective #1
If the question is related to "how much should I pay?" when hiring "writers," they might be "experienced", but not as familiar with the industry or topic .
The writer budgets time to research using the internet and assemble an "academic" version - for about 1,000 words.
To research, outline, write, edit, make changes after a review, add (or create) an image — could take a professional writer/blogger about 4 hours.
X $40/hour = $160. (wages per hour vary depending on expertise)
Or 16 cents per word.)
Note: I don't pay for content by the hour. There are too many variables (listed above). Instead I hire and pay by the word or by the project.
Perspective #2
Flip it
"The industry expert" who has topic in-depth knowledge may take "forever" to write a quality blog post. They are amazing geniuses - but unable to put their wisdom and knowledge into a form edible by humans. It is no surprise that these folks could take 4 hours or longer. They are amazing but likely best served with 'partner' on the team do the listening/writing for them. Or it might make sense to turn to "ghost writers" who can turn their wisdom into words. Ghostwriters are used more often than you think. Famous ghostwritten business books include:
7 Habits of Highly Effective People - Stephen R. Covey
Jack: Straight from the Gut - Jack Welch
The Art of the Deal - Donald Trump
Onward - Charles Schultz
The Pursuit of Happyness - Chris Gardner
The 360 Leader - John Maxwell
Made in America - Sam Walton
Where do "ghostwriters" hide? Castles or graveyards? No... they are found online on website such as:
www.contentrunner.com (Check out trishworks4u and lionshark - my favorites)
www.verblio.com
www.contentbacon.com
www.prosemedia.com
www.siegemedia.com
www.scripted.com
There are many others where you will find freelancers who love to research and write. As with all humans, they must be managed... with clear expectations set and excellent communication. Test, test, test.
Without a ghostwriter, there are CEO/leaders who will share they will spend two to four hours on a blog article and also tell stories about how, over time, their writing skills/speed improved dramatically.
When I started, it took me two days to write an 800 word article. Three years later, the quality made me gag. I hired a writing coach and an editor. 💪
How about you?
If you are trying to estimate how much time YOU should invest to write an article, as with anything, it takes practice.
HubSpot research shows one to two hours is how much time others around the world take to write a 500 word blog post. If we extrapolate this to a 1200 word article, three to four hours seems average. Note this research may not include quality articles which are specialized and technical.
Doing the research will suck time quickly. Trying to tackle topics you know very little about will leave you invested heavily, maybe up all night. The final production will rarely be as insightful as what an industry expert can offer.
Streamlining and making impact
A guerrilla marketer first listens to what the need/want is. When choosing a topic/title, it is based off the questions, frustrations and conversations of those they serve.
Instead of scheduling time to do the work of writing the blog post or hiring a writer, we look at ALL the resources available to create the content to help the prospect or customer.
It can take 5 minutes, it can take 8 hours.
i.e. - There may already be a perfect article written by an expert on the Internet that could be used. A quick email, phone call or social media introduction can offer to spread their wisdom. There are more pros to doing this than cons. (Don't forget to look at resources such as Medium.com or LinkedIn Pulse articles.
i.e. - Asking 10 experts for an opinion/answer about a question your customers or prospects have can often provide 10 perspectives "think about...." With some copy/paste, a little editing, links and references to the experts.... you have an article that helps those you serve.
Proposal = blog. Repurpose sections of a proposal.
Presentation = blog. Repurpose slides and presentation notes.
Emails = possible blog content. Repurpose the email content.
i.e. - There are hundreds of emails that already provide answers to those you serve. Copy/paste, edit and an image or graphic is much simpler. The title can be the question someone asked.
i.e. - Guest articles. A few dozen people a week "pitch" an article or article idea to me via email or a website form. I appreciate the "free content" but most of the submissions require more time to review and edit than it would to create the articles from scratch. I have been fortunate to meet a few great thinkers who write well - and I appreciate the opportunity to share their wisdom with others. You can accept guest writers as well.
i.e. - Podcasts or videos can be put together more quickly. Interviewing others or recording a panel discussion takes as long as the event. They can be hosted on YouTube and embedded in a blog. Rev, www.rev.com, offers transcription software and services to cut the time of production.
Here is a video Maria Peagler shared on YouTube "Content Marketing How To: Content Marketing Made Simple"
With an intro about why its important, what to expect and a summary of "what to do next," you can fasttrack through quality content. (Relevance is a top priority)
If you are estimating your own time to write an article. In the beginning it will seem long. The way over the hump is to write an article each day. Even if it is only 300 words... the skills improve quickly.
The challenge is not so much "how long does it take" as it is: "who is going to create the content, how much will it cost, what do I have to exchange for it." Also, articles are usually a part of a campaign and lead to revenue. What is the value of 10 blogs in a campaign? Start there and reverse engineer it. Articles that require 10 hours might be a perfect fit!
Training to "go bigger"
Typingclub.com - improve your speed.
Use Quora.com for questions about topics.
Use the question as a basis for the title.
Write, edit, add a reference or two, add an image.

There are plenty of image resources here.

User a timer to understand how long it takes for each step - and when time "disappears".
Each article will help you improve.
Hire an editor or a ghostwriter if that helps you share your awesomeness.