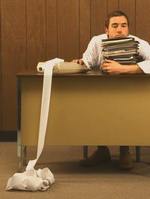 If you're getting paid to do something, you should do it, and do it well. But is it always that simple? What if you have a vague job description, a haphazard workload, and a very bad boss who is only content when you look busy, but not if you're super efficient? Sad to say, but sometimes working at your maximum potential is punished. This happens a lot in larger organizations and retail.
Let's say you and a co-worker must each enter the data from 100 files, or shelve 100 books. You hustle and finish an hour earlier than your co-worker, and there's not much else to do. Your boss or manager walks by, expresses displeasure at the fact that you're not doing anything, and assigns you to an unpleasant, and really unnecessary task because they don't like seeing you relax (even though you earned it by finishing your assignment faster, right?). What do you do? Quit? File a complaint? Or slow down? These instructions are here for if you decide to reward your own efficiency by using that extra time you earned for R&R-without your boss noticing. Want to read more? Click here to continue reading on wikihow.com
The above is from WikiHow (something I contributed to) and VERY fun. I share this with you because WikiHow.com is an incredible resource. If you are "experimenting" with writing, start with just a paragraph.
WikiHow is FREE.
WikiHow is a community where you can help others and vice versa.
WikiHow allows you to be a writer, an editor, an expert or a student.
WikiHow can teach you how to improve your skills.
WikiHow is a place to learn, teach, share, grow, practice, help others and help yourself.
As you look at your lists, how is "writing skill" rated? High on your list?
Need practice? Thinking it is too much and don't know how to start?
How do you eat an elephant? ONE BITE at a time.
How do you boil a frog? If you put a frog in a pot of boiling water, it would jump out. Put the frog in low tempurature water and slowly turn up the heat... slowly the water would heat to boiling and the frog would not be "jumping".
In all that you do, eat the elephant a bite at a time & boil the frog by turning up the temperature slowly. (yes a sense of urgency is good... but that can mean: don't waste time)
Remember the words of Abraham Lincoln: "I am a slow walker, but i never walk backwards"
Writing may be a big part of your business online. If you feel uncomfortable, start slow and build. Even if you start with only 100 words, you are not walking backwards.
Writing is not your thing? No worries, there are many more options for your business. We will get there.... another time.
First and foremost: DO NOT build a success on your weaknesses! Build one based on your strengths!
If writing is something you have an inclination to do, write something on WikiHow.com and share it here with me so I can give it a read! (I can even give it a tweet on twitter)
Can't wait to read what you write in WikiHow.com.
Now it's time for you to go back and "look busy" without really working. (while writing on wiki and showing me in a comment below)