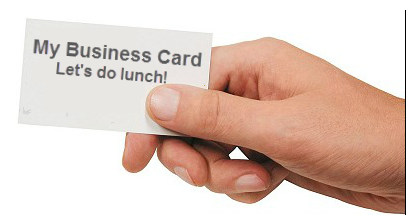 According to an online poll, over 70% of business professionals still use printed business cards while an amazing 13% never use them at all, and 14% under-utilize their printed card.
The poll numbers contradict recent trends where everyone has a smart phone, an iPod; iPad, or other portable device. Recently there has been much discussion in the business world about whether there continues to be a need for printed business cards. Trends are shifting towards bumping devices and sharing information electronically through sites such as LinkedIn and Facebook; and some people are beginning to use digital business cards exclusively.
As a working business professional and a graduate student who is out there in the "real world;" balancing business life with raising a family and going to school, I can tell you for certain that those who are using only digital business cards are doing themselves, and their companies, a great disservice.
So you may be thinking, "if trends are shifting, why is this a great disservice – wouldn't it really be progress, advancing with technology?" To that, the answer is simple, Yes, and No.
It is great to keep up with technology, and WePrintQuick.com embraces technological changes whole-heartedly. But the simple truth is that not everyone does, and even for those who do embrace technological changes, sometimes budgetary restrictions, time or even ability prevent them from being able to participate in the latest and greatest advancements.
By going strictly digital, business professionals are cutting themselves off to those individuals who cannot or simply prefer not to use digital media.
In a recent article, Debbie Russell, an online marketing professional, states that according to an online poll, over 70% of business professionals still use printed business cards while an amazing 13% never use them at all, and 14% under-utilize their printed card. What I would like to point out here is that any of those who never use a printed card are not always capable of promoting themselves or their business; while the 70% who do continue to use printed business cards are ready at a moment's notice to produce a card with their information to any chance encounter, planned meeting or other interaction with a potential customer or client. They can simply hand off a card that contains all of their relevant information while their counterparts must fuss with their electronic devices, spell out names and email addresses and muddle through the information exchange process.
In response to the question about whether or not business cards are becoming irrelevant in the business world, I believe the clear answer is no, they are not now, nor is it likely that they will ever, become obsolete.
The Alternative:
An excellent alternative to completely eliminating the use of printed business cards is to utilize a blend of digital and print media.
The technology that enables smart phones to access printed material and store the information, called a QR code or Quick Response code, can be integrated into your printed business card so that when it is scanned it creates a digital card.
In addition to your email address, add the LinkedIn url, Facebook URL and Twitter handle to your card to create a very modern printed card.
These offer easily accessible contact information for those who prefer digital methods of contact. while still maintaining the simplicity of a printed card.
If you are looking for business cards, www.WePrintQuick.com offers beautifully printed, high quality, 2-sided business cards that will help you create that professional first impression that every business needs to succeed at a price of only $48.00 for 500 cards. www.WePrintQuick.com can work with you to design that perfect blend of digital and print card, or simply print what you design yourself.
About the Author:
Stacie Clark is with www.WePrintQuick.com, a division of Eveready Printing.