Experienced marketers know there is a fine line between engaging a customer and annoying them. Even the most seasoned professionals can make mistakes that cost them potential business, however. Here are 10 marketing tactics to steer clear of as you iron out your plans.
1. Attempting to Reconnect with Customers After Long Periods of Silence
The coronavirus pandemic resulted in a flood of emails from companies. Those companies informed customers of service changes, new products catering to a socially distanced lifestyle, and more. Brand communications are not altogether problematic, of course. They are much more likely to annoy someone if they get one of those emails after not hearing for a company for several months or even years.
Weigh the costs versus the benefits of all customer communications. Would a message from you inform a person, or make them fed up?
2. Out-of-Home Advertising
Out-of-home (OOH) advertising refers to strategies like billboards, banners at sports arenas and bus stop ads. It is not ineffective in every instance, but you should certainly consider scaling back on it now. With fewer people traveling and more individuals staying at home due to the COVID-19 pandemic, the likelihood is much higher of those ads going largely unseen.
3. Overusing Pop-Up Ads
Pop-up ads were once common on most websites, and many still depend on them. Many marketers agree that using one pop-up at the start of a person's site interaction is okay. Anything more than that could disrupt the user experience by pulling them away from the content.
One frequently deployed tactic involves using a pop-up window that says, "Wait, don't go!" or something similar. It intends to stop a person from leaving a site but often appears when they try to move to another section of the website. Pop-ups no longer require high skill or technology. "Anyone" can add a pop-up to a website in minutes.
Limit your pop-up windows so that they offer people opportunities, but do not frustrate them.
4. Generic Email Subject Lines
We have all received emails with subject lines asking, "Ready to save big?" or "Allow us to interest you in a new offer." The issue with those examples is that they are not specific enough. If people do not immediately view the subject line as relevant, they will ignore them.
Consider alternatives like, "Save up to 50% on summer dresses — today only" or "Start your morning with our new flavored coffees." Those examples set expectations and appeal to people with particular needs.
5. Allocating Too Much of Your Budget to Paid Ads
The cost of performance-based paid ads fluctuates depending on how many people interact with them. This reality, unfortunately, led to a rise in click fraud bots and competitors intentionally clicking on ads to drive up marketing costs. Statistics showed fraudulent behavior associated with 1 in 5 ad clicks registered during January 2017.
Adidas admitted to overinvesting in digital advertising to drive online sales. The company has since changed course by focusing on other options, including video, to drive revenue. That example proves that even global brands make this budgetary blunder.
Think carefully about whether your company is too reliant on paid online ads. Could your resistance to change hinder your profit potential? Do not do away with paid ads entirely, but explore other possibilities, too.
6. Working with Only the Most Popular Influencers
Influencers can help build brand trust among audiences. The early days of hiring influencers typically meant choosing those with the highest follower counts. Things are changing, however.
A February 2020 survey from Linqia found that micro influencers — people with 5,000-100,000 social media followers — were the most selected type that marketers want to work with this year. Additionally, 26% plan to hire nano-influencers — those with less than 5,000 followers — compared to 22% who aim to hire celebrities.
These statistics show that you should think carefully before solely choosing ultra-famous influencers. The payoff could prove substantial.
7. Too Much Emphasis on Print Materials
Print materials still have a place for some types of marketing, but companies may waste their money by producing too many of them. Marketing experts weighed in on this topic a couple of years ago. Many of them pointed out how print works well for certain needs, but recommended marketers incorporate physical materials alongside their digital campaigns.
8. Shock-Value Content
You can probably recall a few times where marketers used content to shock people, and it worked for them. It is still best to avoid, however, because the chance of it backfiring is too high. That is especially true these days when a person only needs to go to a news site to feel shocked by the effects of COVID-19.
Aim instead to catch people's attention in other ways, such as by delighting or fascinating them.
9. Showing Irrelevant Suggestions to E-Commerce Shoppers
Most online shopping sites give recommendations to users. The ideal is that those suggestions increase the overall size of the purchase by urging people to buy other things that they genuinely need or want. However, some sites display recommendations that seemingly have nothing in common with the website user. People are more likely to get fed up in that case because the suggestions slow down their overall shopping process.
Stay relevant.
10. Publishing Lots of Gated Content
The thought process behind gated content is that people will feel so impressed by or invested in a brand by the time they come to a form that they will gladly provide their personal details to access the content. There is so much content available for free. Visitors are more likely to leave your website and look for material similar to your gated offers.
Think carefully before publishing gated content. Companies that do it should offer plenty of other types of content to enjoy. This reflects a character of being generous and builds trust.
Consider the Consequences Before Acting
Some of the marketing tactics here annoy people, while pouring money into others are not good right now. As you consider how to change your marketing mix for the coming months, keep these items in mind before making decisions.
About the Author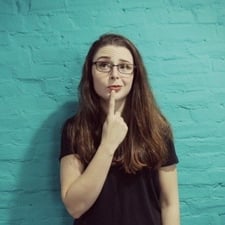 Kayla Matthews is a researcher, writer and blogger covering topics related to technology, smart gadgets, the future of work and personal productivity.
She is the owner and editor ProductivityTheory.com and ProductivityBytes.com. Previously, Kayla was a senior writer at MakeUseOf and contributing freelancer to Digital Trends.
Kayla's work has also been featured on Houzz, Dwell, Inman and Curbed. Additionally, her work has appeared on Quartz,