Knowing that Amazon is on top their business should help you sleep better at night. Amazon is pulling duplicated e-books from the Kindle Store. The lazy, opportunistic, predator, stupid people who wanted to start a business by doing essentially no work have been caught.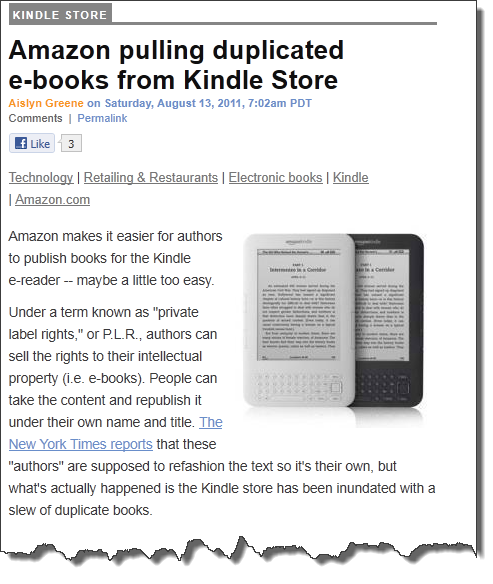 The lazy entrepreneur:
Buys the Private Label Rights (PLR) of an e-book which is sold by the wheelbarrow.
Uploads the e-book as their own into the Kindle system. (After all, they own the rights.)
Changes the title of the e-book as they upload it into the Kindle system.
A price point is put on the new Kindle e-book and those who love reading with the Kindle purchase and download the e-book.
What happens when the person who made the purchase buys another Kindle book which is the exact same book but with a different title?
The New York Times reports that these "authors" are supposed to refashion the text so it's their own, but what's actually happened is the Kindle store has been inundated with a slew of duplicate books.
According to participants in WarriorForum, an Internet marketing forum, Amazon has started to pull books that are obviously copies or barely altered duplicates.
This means that the lazy, stupid, opportunistic entrepreneurs just may need to write a real Kindle book. They may have to offer valuable content that will help people change their lives (or businesses).
Shame on me for thinking that this is possible?
Sure, this is the American way. Take something free, claim it as your own and then sell it in a new package. Bottled water comes to mind. The guy in the back of a warehouse goes to the tap, fills the bottle with water and sells it as "fresh bottled water from Washington Springs."
If your business success plan is based on taking the material everyone has access to for $1 and then repackaging it; how long will it take before everyone realizes the game?
Fortunately, Amazon will not allow schemers and lazy entrepreneurs to give Kindle books a bad name. It happened on eBay many years ago as con artists and thieves gave eBay a bad name.
Lesson:
Be original.
Write a Kindle book.
Don't be a game player, schemer, stupid and lazy.