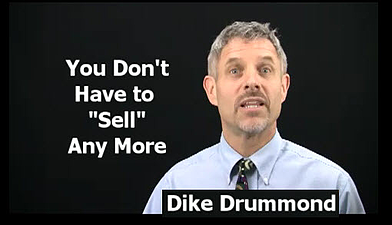 How to sell products and services for your business.
Step 1: Don't sell.
Step 2: Remember nobody cares.
Step 3: Know your people. (Those who will benefit)
Step 4: Know and communicate the benefit.
Step 5: Begin enrolling.
Step 6: Contact Dike Drummond MD and ask him to become a spokesperson and make a video for you. He is on to something special.
Step 6: As another option, watch the three minute video below over and over. How many times will it take before you change a habit of selling a product or service?
Personally, I will stick with Inbound Marketing. Dike Drummond MD is doing a bit of Inbound Marketing himself as he combines a blog, LinkedIn and Facebook to make invitations to his videos which then have another invitation via a form or toll free number. Inbound Marketing is about getting found by those already searching for your products and service and then showing them the benefits. (Which you will hear about in the video by Dike Drummod MD.)
Whichever marketing strategy you use to achieve business success, TNT is the name of the game.
TNT = Today Not Tomorrow.
Which do you prefer?
Inbound Marketing?
Warm Call Marketing?
Cold Call Marketing?
Guerrilla Marketing?
Feel free to leave a comment below and share your preference.
Regardless of the marketing method, Dike Drummond MD has a point. The benefits of a product and service must be in the message. Not a new concept but the video does take a personalized approach and may remove the cobwebs for you.