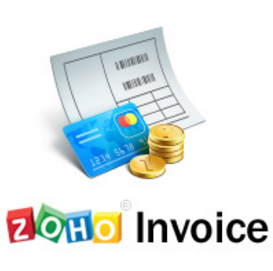 There are a plethora of options. Quickbooks lets you set invoicing and payments online, and other options are Freshbooks, InvoiceDude, Billable and more. Here is a list of 48 different free invoicing options you don't have time to test. After testing a variety of invoicing software, I continue to appreciate Zoho Invoice and it is still at the top of my list. It is powerful, flexible and intuitive.
Zoho Invoice is an easy-to-use online invoicing software that is built for small businesses and freelancers. Zoho Invoice helps you send beautiful quotes and invoices, track the status of each invoice, automatically send payment reminders to customers, and receive payments online. Try Zoho Invoice for free today here: https://www.zoho.com/invoice

This first video gives a quick overview of Zoho Invoice:
Going Mobile - A "live" review of the Zoho Invoice App:
Watch the video below for a review on the Zoho Invoicing app that saves time and money by creating hassle free customer estimates, invoices and reporting from a mobile device.

Zoho Invoice is a great example of how mobile apps for business can streamline the way businesses run.
Zoho Invoice: Creating Your First Invoice
If you are unfamiliar with this type of software, you may feel overwhelmed when setting it up. Even though the software is very easy to use, everything seems a little harder the first time. It doesn't have to be perfect right out of the gate. Start with the basics.
Zoho invoice includes late reminders and you can add your own payment options.
Does Zoho Invoice integrate with Quickbooks?
According to this Zoho Forum, they can't be integrated. The Zoho forum does describe how to use Zoho with Quickbooks.
... you can export the invoices from Zoho Invoice as .CSV or .XLS file formats. These files can be imported into QuickBooks. However, there's no direct way to import the invoices into QB. This is because, QuickBooks doesn't support the import of invoices.

You can use third-party add-on utilities such as " Zed Axis " and " Transaction Pro Importer " to import the invoices into QuickBooks from the exported .XLS files.

Read through this link to know the steps on importing invoices into QuickBooks Online, using Zed Axis : http://support.zed-systems.com/kb/a197/import-invoices-into-quickbooks-online
But, How do I get paid using Zoho Invoice?
It is very simple in Zoho Invoice to set up getting paid online and you can select from many payment gateway options. Watch the simple how-to video which explains how to configure payment gateways in Zoho Invoice to receive payments online.
Zoho Invoice is free to get started. Here are the pricing options. (very inexpensive)
I have used Zoho Invoice for eight years and find it intuitive and easy to use. They continue to add payment gateway options and refine the software. Customer service, dependability and flexibility are extremely important and Zoho has never missed a beat. As mobile took over the world, Zoho added an app for Android and Apple devices.
If you want an option to get paid, I give Zoho a thumbs up. https://www.zoho.com/invoice