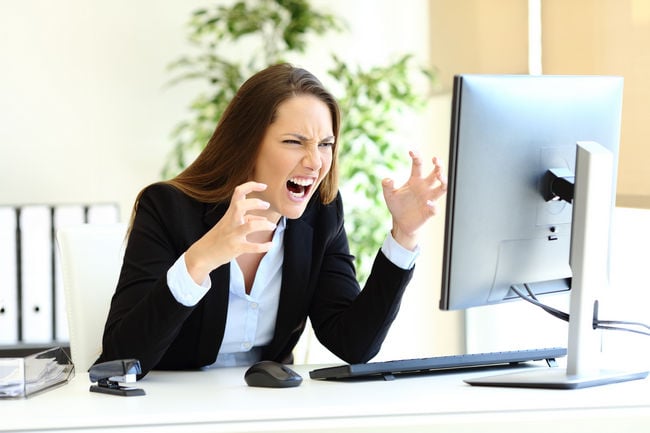 Technical Chaos
If you want chronic technical chaos, a website that runs at the speed of a slug, and creatively boxed in a corner, WordPress is for you. I found myself inheriting a WordPress website project that I wish I had said "no" to working on as a marketing leader. While I could easily author a list of 50 reasons why you shouldn't use WordPress, you only need five. I will walk you through the five top reasons the platform is not suited for a marketing manager so you can consider migrating to a more intelligent platform.
Five Top Reasons to Avoid WordPress
There is NO WordPress support service

- you have to rely on forums for Q&A - good luck with that. If you want reliable customer service support, you will need to invest in a 3rd party resource. Independent development shops like "Curiousminds" specialize in this type of service that are happy to take your money. It takes them time to review/research your architecture, and it can get costly to manage getting a 3rd party up to speed. Note the smiley face that is on their website from this screen capture. Of course, you'll love the service because you can't maintain a website as a marketing manager that requires code without them!





Vulnerable Security - Among all services that provide CMS-based solutions, WordPress accounted for 90 percent of all hacked CMS sites according to this source. There endless amounts of plug-in's to choose from, along with plug-in "updates" that foster the security vulnerability.


Plug-in expertise required

- WordPress has 55,000+ plug-ins to choose from, and you need a WordPress expert to advise you on "which" 20 you should maintain monthly so you do not accumulate superfluous plug-in's. If you don't, you'll see security notices, and a drastic change in your website speed with possibility of your site going down. So, if you plan on building a WordPress site, you better make sure you're a pro at plug-in management.



Chronic software updates

- Regular updates are required monthly, usually more frequently to keep it's platform functioning properly. If you do not have expertise in managing required updates, it can cause issues with the design theme on your site or break your plugins due to a lack of comparability with your new updates. Combine the need to be an expert at software updates + plugins, and you have the perfect recipe for any skilled marketing strategist to fail at their job.



Complicated SEO

- Like everything else with WordPress, SEO is challenging to manage. There are plenty of those magical "plugins" that can help with SEO, but if you don't know what you are doing, you'll likely choose a plugin or theme that works against you with search engine rankings.
Wrapping it Up
While WordPress can seem like a nice option to create your own website, it is not for beginner developers or marketing managers to maintain. If a website is built with code, it will require a developer either on staff, or a 3rd party to support it. After learning the hard way, a friend shared the HubSpot platform with me. Even though I am still stuck with a marginal WordPress site, I'm learning how to migrate to HubSpot, and let go of the WordPress headaches. The process has opened up my schedule to focus on marketing strategy instead of chronic code and management issues with WordPress. If you feel hostage to WordPress and need an exit strategy, HubSpot is your friend. I've had a positive experience learning HubSpot as an alternative platform, and it has a lot of fantastic marketing bells and whistles.