Here is an online software program to create an infographic which touches the heart and mind simultaneously. Infogr.am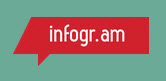 Infogr.am includes:
Real-Time Data
Static data is stale data. You can connect live data sources to Infogram's infographics, charts and visualizations. Real-time never goes out of style.
Download & Embed
Take your work with you. Embed infographics and charts where you want them. With the Infogram Pro, you can also download your infographic and share privately.
Interactive & Responsive
Make your data dance! Infogram's interactive visualizations add a new dimension of engagement. Responsiveness guarantees the experience for a wide audience.

Infogr.am is a service that makes it quick and easy to create very attractive and highly informative infographics for publishing on the Internet.
Here are three reasons infogr.am stands out:
It provides great functionality without paying a monthly fee.
Low learning curve, which means you can create infographics quickly and easily.
The end result is very clean and attractive.
The tool does not replace judgment. It may become a giant box of color crayons. More crayons does not help someone become a better artist.
Add it to your guerrilla marketing toolbox. You can use it free to make your point and share your stories.