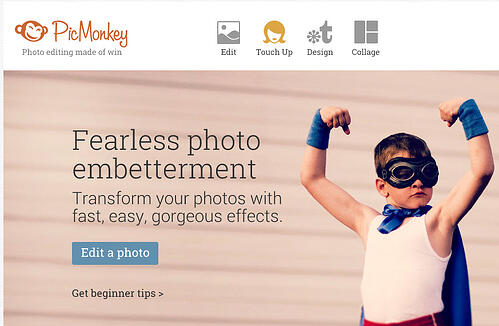 PicMonkey is an option for editing photos and embedding them into your website.
I love Snagit and FastStone Image Viewer for editing but here is an option online, without the need to download software.
If you are new to world of blogging and adding photos to social media or website pages, you will appreciate their tutorials.
Watching for free software tools that empowers the on-the-go entrepreneur or business leader is one my missions.
More important than "free" is how intuitive is the software. How fast can you learn to use it? The real cost of software is training, testing, failing, getting back on the horse and learning a little more. (Not to mention the time it takes to keep up with changes.)
As you will see in the tutorial video below, you will be able to learn this in a snap!
What it comes down to:
You have an idea.
You see an image (or images) in your head.
You take a few photos, borrow images from friends or use one of these resources.
Instead of going to a graphics designer which can take time and money... you take action.
You use PicMonkey to edit the photos to match the idea you had in your head.
Done.
You make your point.
People have an "ah-ha!" moment
They buy your stuff.
Both of you celebrate. Everyone wins.
If a picture is worth 1,000 words, how much is a photo edited/created by PicMonkey worth?