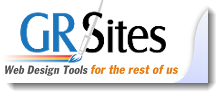 GRSites makes a promise on the home page of their website:
The easiest way to
give your web site
a professional look
| | |
| --- | --- |
| | Make your designs in a few clicks |
100+ custom design generators, endless possibilities...
| | |
| --- | --- |
| | Host them on GRSites for free |
Put the design into your private online folder, or download and host it yourself (instructions provided).
| | |
| --- | --- |
| | Paste the HTML code into your web pages |
You can edit the designs in your online folder, no need to touch your page's HTML again!
The issue of coding or programming is no longer an issue. The guerrilla marketing savvy entrepreneur is all about speed to market and personalization.
Do not assume the tools GRSites.com ensures a professional site. Imagination, innovation and good judgement are important. As you add this to your marketing resources, keep it simple. The purpose of graphics is not to distract from the primary message of the website page.
Dig into GRSites.com free resources to create:
Buttons
Text Logos
Menus
Background Textures
Text Boxes
Icons
GRSites.com is an easy to understand guerrilla marketing tool and after about 15 minutes, even those with less experience can begin to build simple graphics tools.
The purpose of graphics: To create action with a conversion or a purchase. Graphics have nothing to do with getting found. Great graphics can offer magic as people don't read the screen, they snapshot. Emphasizing a point with a graphic or making a unique personal invitation is the purpose of tools such as GRSites.
Inbound marketing training will help you understand how to increase conversions and use the graphics tools available on GRSites.com.
There are two types of entrepreneurs:
| | |
| --- | --- |
| | Those who think in terms of getting things done focusing on speed to market and personalization. (Who use fast tools or outsource the work.) |
| | Those who try to know how to do everything and attempt to harness learning html, coding and graphics creation at the same level of a professional. |
GRSites.com is a tool for the entrepreneur who is thinking of speed, targeted market and guerrilla marketing.
If you are interested in this type of tool, you will also love Hubspot.
Hubspot software includes a call to action creation tool which is built into the marketing software. Here is an example button built from within Hubspot with a few clicks:
Yes... you can start a free trial with no obligation or credit card.