Andy Weng should be famous. He is "An Excited, Determined, Enthusiastic, Full of Life, Fun Soul". Already Andy has accomplished much and yet he has only just begun. Let me introduce you to Andy Weng and you can think about whether you want to reach out and become his friend.
Fortunately, you don't have to take my word, we have social media and websites to help us trust but verify the type of character Andy Weng has. (I can tell you that Andy has rave reviews but you will still check him out.)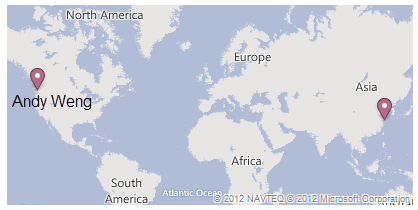 While Andy currently resides in Seattle, WA, Andy Weng's home town was originally in Shanghai, China. Andy has the benefit of speaking two languages. (English and Chineses). This gives him an edge in a world that is so small and getting smaller.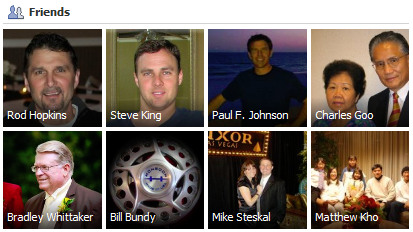 One of Andy's friends might introduce you. He now has friends from around the world. You can reach out to Andy on Facebook and give him a friend request.
Andy joined Facebook just over three years ago on July 16, 2009. He just had a Facebook anniversary. Take a moment to give him a happy anniversary shout out.
If you are looking on LinkedIn for Andy Weng, you will find him in Seattle who as an Executive Marketing Director will be your best choice.
You will assume while looking at the LinkedIn profile that Andy is in high demand and exclusive because he keeps his profile at a minimum. Those who are highly sought are not as interested in using online tools to get found. This is an indication that Andy is very selective and if you are to reach out to him, you better have more than a new idea to share. He is open to contact though. You can find Andy Weng's profile on LinkedIn here.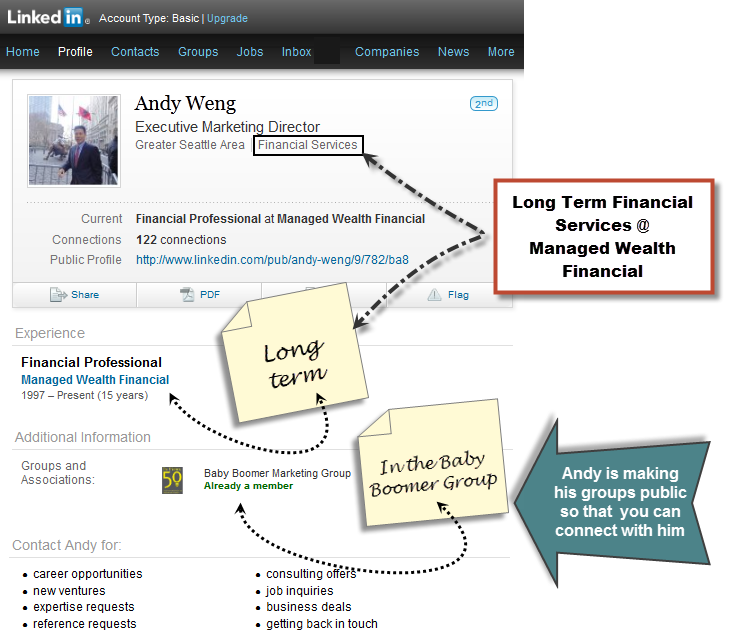 Sure enough, if you are about to talk to Andy more seriously about life, the future or investments, you will want to know where he has been, who he hangs out with, his opinion, his likes and most important might be how is conquering the world and changing the community.
You will Google Andy and find a variety of Andy Wengs. Each one might give you more confidence or what you find might give you shivers. There is for instance a Twitter account with Andy Weng's name. (Which is not who I want to introduce you to.)

A synopsis for Andy Weng:
Andy started taking martial arts classes at age six and would have to wake up at 4:30 every morning, rain or shine, to train for three hours before going to school all day. Then he would train for three more hours at the Shanghai Athletic Institute before taking the bus home to do homework and get a good night's sleep so he could go through the same routine the following day. His lessons for being diligent in business started at a very early age.
At 11, Andy was one of 30 children out of 6,000 applicants to be accepted to the Shanghai Opera School for the Chinese performing arts, where he learned all about the singing, dancing, martial arts and gymnastics that are integral to Chinese opera. Until his graduation in 1988, his life consisted of nothing but cooking, eating, studying, training and practicing from 6 a.m. to 9 p.m. daily, with once-weekly visit from his parents and several performances each week. As an adult, his life would take a different course.
Andy Weng arrived in the United States as a college student, having come to study mathematics and chemical engineering at Brigham Young University after leaving his family behind in his native Shanghai, China.
Andy was introduced to the opportunities offered by World Financial Group by his boss at the math lab where he worked.
He decided to start his own business within the company after graduating.
It took a couple of years before he was profitable, but it wasn't long until his business afforded him enough money to take himself, his wife Jeana and their new baby girl back to China to visit his family.
Andy realized it was time to start building a team of professionals so he could expand his business and reach his long-term financial goals after he was back in the United States,
Things were tough though, with Jeana still working the night shift at a local hospital and taking care of their daughter during the day. If she was going to be able to quit working nights, and if he was going to be able to buy a nice house near a good school, as was his dream, he was going to have to build his business.
Andy's personal values served him well during this business-building phase. He believes in living below one's means and saving for the future, which are two of the maxims that World Financial Group strives to educate its clients about.
By living simply and doing little things to save money, like packing lunches almost every day, the couple has been able to set aside several hundred thousand dollars and buy a house in a good neighborhood. The only debt they've ever acquired was their mortgage. Andy feels good talking to his clients about how they can make better financial decisions because he has his own financial house in order.
The rewards of building a successful business have been more than just monetary for Andy Weng. His two eldest children attend a private Chinese school every afternoon after their regular schooling is over, and the family is able to travel to China once every year.
He takes his family along on company reward trips as well, which means even more destinations, including the Cayman Islands, Hawaii and several places in Europe.
He has also helped his parents buy their own home in which to retire, a true sign of his success.
Andy Weng has been with World Financial Group since 2001 and was able to grow a solid business in Seattle even though he was based in Utah and had to commute back and forth.
His family relocated in 2006 and since then, he has brought about 60 people onto his team, which includes an office in Seattle and affiliate offices in California, Idaho, Nevada and Utah.
Andy's success story is far from typical when you consider where he started. A key element to his success is: Recruit talent.
You like the story but may get the impression of a "Salesman", so I will share more with you. When you are ready, you will reach out to him via Facebook, LinkedIn, telephone or email:
Phone: 425-430-4491
Fax: 801.938.1088
Mobile Phone: 425-638-3977
E-mail: andy.weng@tfaconnect.com
BrightScope.com is a website that shows summaries of financial advisors and partially helpful. It does state that the information provided is not guaranteed to be accurate.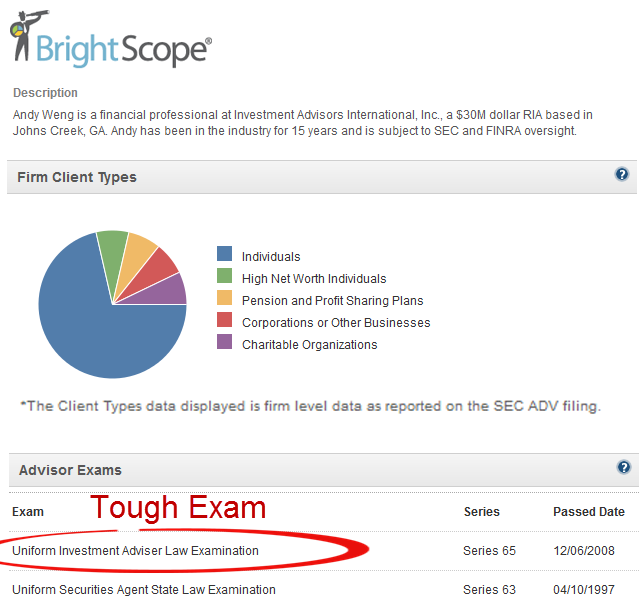 Andy Weng's company is Managed Wealth Financial. Here is where you will find the meat and potatoes. This is where he delivers the goods. At this point, you can use his resources and have an advantage because it is still a great secret with 367 pages of online financial resources.

The Three-Fold Mission of Managed Wealth Financial Is...
To educate clients on navigating the financial world in the 21st century.
To create wealth and secure families' financial futures.
To help our representatives build strong businesses and strong lifestyles with their families as we serve our clients.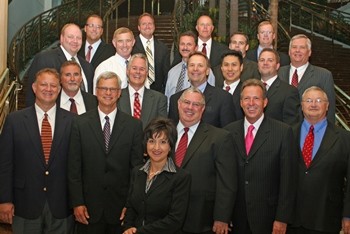 Cash Management Basics
Doubling Your Money
Cash Management Tools
Money Market Funds
Managing Cash
Biweekly Mortgages
Reverse Mortgages
Smart Financing Ideas
College Financial Aid
Savings Alternatives
Effects of Inflation
Home Equity Loans
I especially appreciate "Doubling Your Money".
You can use the website for your personal tax calendar as it provides the resources which are easy to understand:
Tax Library
Andy's team has put together a collection of resources to help you manage your taxes as well as prepare for the upcoming tax season. Simply click on one of the topics below and you'll find a selection of tools and information related to taxes and tax strategies.
The best free resource the website has to offer might be the calculators. There are many websites with a few calculators but you will find Andy's Managed Wealth financial with an abundant number of calculators and you will find yourself bookmarking his website to keep them handy. Here are a but a few of the calculators to help you predict the future:
Calculators provide "what if" scenarios which can be used in the comfort of your own home. They help you have an informed conversation instead of a one way pitch. This shows the commitment by Andy and his team to serve beyond what others offer.
At this point you should be impress enough to connect, collaborate or celebrate with Andy Weng. The Managed Wealth Financial website offers helpful articles and calculators to empower you so that you can take care of your family.
Being an entrepreneur is about more than the four walls of a business. The entrepreneur's personal life is directly connected with business. Take care of both or risk it all.
Andy Weng should be famous for all that he has accomplished. He represents what this country is about and another example to follow.