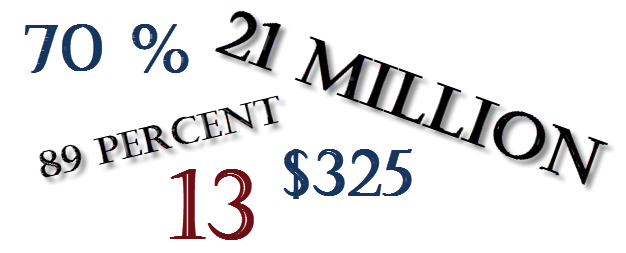 A lot has been said in recent years about the negative state of the economy and the many struggles that face the common worker. Job loss and inability to pay bills have forced many people who once relied on major companies to make a living to become more independent in their careers. As a result, the small business sector is showing more activity than it has in decades. A look at the statistics associated with small businesses shows that it is a good time for the "little people" of the American economy.
If you are a small business owner, you are in good company. In the U.S., there are over 21 million small businesses – enough to outnumber large corporations 1162 to one. In fact, 89 percent of all companies in the country are considered small businesses.
The majority of these, 70 percent, are owned and operated by just one person. Of course, some "small" businesses are much larger and have several levels of employees. The U.S. Small Business Association reports that 44 percent of the payroll in the nation comes from the pockets of small business owners. States with smaller populations, like Wyoming, Montana and Rhode Island, tend to pay out a higher percentage in small business payroll. That is a lot of people who rely on the success of small businesses to bring home the bacon.
Since most small businesses operate in a "fight or die" mentality, there is a lot of ingenuity that comes from within. Per employee, small businesses develop 13 times more patents than large patenting companies. About half of all small businesses do not survive past the five-year mark. This creates a higher level of creativity for owners and employees of small businesses. Without consistent new ideas and cost-cutting innovation, small businesses run the risk of becoming irrelevant.
Successful small businesses are not just an important economic factor for owners and employees, however. The health of the entire economic outlook depends on small business success. Anywhere from 60 to 80 percent of new job creation comes from small businesses. This number tends to fluctuate because small businesses become reclassified as large businesses. The great news for the current workforce is that in 2010, small businesses accounted for 75 percent of new jobs in the country. Bankruptcies of small businesses peaked during the height of the recession, but are now lower than consumer ones, according to Equifax. With these statistics, it is easy to see why small businesses have such an impact on the fiscal health of the nation.
There is a reason why so many people find success in small business ventures in the U.S. According to a study by Intuit, it costs the average American $325 to start a business, based on things like licensing and government fees. The only major country with a lower rate is Ireland, at $327 USD. Despite the widely held belief that outsourcing business overseas is dirt cheap, the cost of a startup business in India is six times as much as in the U.S. at just over $2,049. This is not an outlandish number for large corporations that find value in other areas of offshore labor and locations, but it is an interesting comparison point for average, small business Americans.
So what do all of these numbers actually mean for small businesses? In a cautious marketplace, the statistics translate to a promising long-term outlook for owners and operators of small businesses. If the hard times of the past few years have taught workers anything, it is that jobs with large corporations are not a sure thing. With some creativity and a lot of determination, small business owners can guide their own career opportunities and be in good company.
Megan Totka is the Chief Editor for ChamberofCommerce.com. She specializes on the topic of small business tips and resources. ChamberofCommerce.com helps small businesses grow their business on the web and facilitates connectivity between local businesses and more than 7,000 Chambers of Commerce worldwide. Megan also writes as a business consultant.