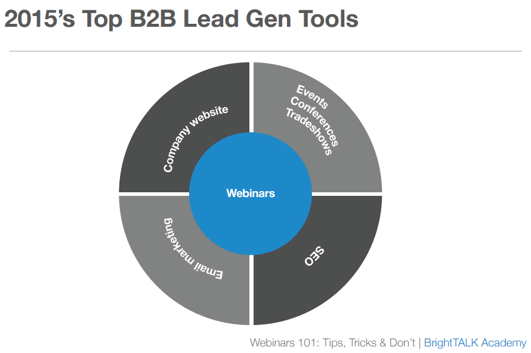 If your talent is "speaking and presenting" and you want to learn how to excel and implement webinars into your marketing mix, this is for you. Andrea Goodkind, Senior Marketing Manager at BrightTALK goes through the basic elements of doing webinars. Webinars are a great tool to create and nurture higher-quality leads.
BrightTALK is a serious webinar machine and you may not be quite ready for this rocketship. In that case you will probably start with one of the webinar software options here.
Webinar 101 Tips
Most webinar tools are pretty easy to master but it is still better to practice. To be a one-person show, handle the logistics, present, answer questions and watch for problems will be risky. Practice first with your top 10 favorite people. Use the low cost and free tools. If you are brand new to this, start smaller with Skype. Record the presentation and while you are your worst critic, you will learn much about yourself. (Remember the webinars you have attended and how so many things have gone wrong. Many of which could be avoided.)
Presenting in a webinar is nothing like speaking to a live group. You will not be able to see their eyes, smiles and nods. Nor will you be aware of snoozing or distractions. The webinar above gives great tips to improve your results.
Avoid doing a webinar and an in-person presentation as a two-in-one event. There is a different rhythmn to each type of presentation. The online webinar will have a quicker pace while the in-person presentation will most likely be personalized with eye content and a bit slower. Recording a live in-person event to then show later to an audience works well.
Webinars can be live or pre-recorded and "sold" as live with a person to introduce it and answer questions at the end. Which is best depends entirely on the talents and skills of the person presenting. People prefer to believe a person is presenting live since it is authentic and real. (vs. canned)
Webinars are different than a video because the audience can ask questions which increases the value dramatically. If you have already listened to Andrea's presentation, you heard the questions initiated by the audience at the end of the event.
BrightTALK is not just a webinar platform, it has a built-in marketing system as well. The price point is high and would only work well if you either create a collaboration group to share expense, have a serious plan for growing revenue via webinars or the size of your business already allows for the investment.
If you have a HubSpot system, you have the marketing machine and you can integrate Wistia + Eventbrite with HubSpot to get it done.
If your talent is writing and not speaking, then webinars may not be your best option. That is a topic for another article but a good reminder to leverage your current talents vs. becoming something you are not.
The biggest barrier will not be the tools. The biggest hurdle will be taking the first step. When you go for it, months later you will look back and say "that was easy!"
You might be one who is cheating the world by not using webinars to share your wisdom. Need a nudge or more tips? Let me know here.