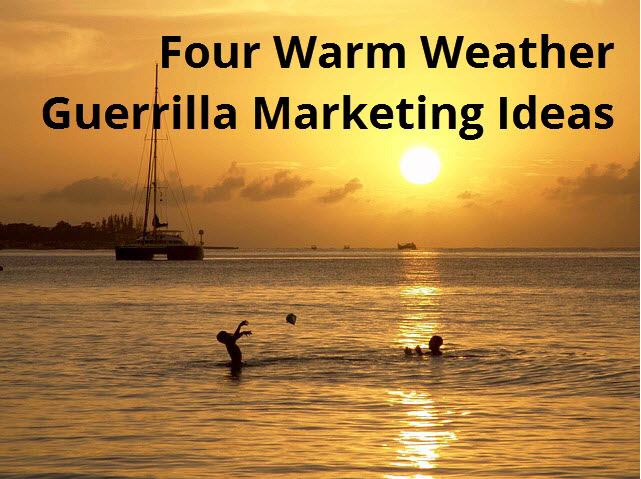 Summer is fast approaching, and small business owners may be trying to come up with creative guerrilla marketing to promote their business. WePrintQuick.com wants to share some relatively inexpensive ideas that you can use to promote your business and attract customer loyalty.
For Contractors and Home Service Businesses:
As the weather warms, options such as door hangers and printed flyers become a way to reach potential customers. These methods work great for warm weather businesses such as:
Landscapers
Heating and cooling repair
Pool service and repair
Childcare providers
First:
Select your target neighborhoods based on the products or services you offer, and enjoy the warmth of the day as you meet potential customers and leave information behind for them.
Second:
Sending a stack of door hangers with technicians or service providers creates an opportunity to boast about the good job you've done in a neighborhood. Have the technicians spend just a few minutes hanging door hangers on the doors of close neighbors, or placing flyers in the mailboxes or doors. This says, "Hey – we did a great job for your neighbor, and we'll do the same for you."
If your business doesn't have service technicians that go out into the community, another great idea for summer marketing of your business is to personalize bottles of water.
First:
Create a marketing message for your ideal customer and have labels printed up. WePrintQuick.com can get this done easily.
Second:
Distribute cold bottles of water in areas where you might expect to find your target customer. Be sure to include your contact information, including a QR code if possible, and keep the labels simple and eye catching. You can have labels printed professionally and, using just a bit of scotch tape or a dab of glue stick, you can apply them yourself.
Leverage Activities in the Community:
Another method that works well depending on your product or service is to visit yard sales and flea markets in your spare time with a pocket full of business cards. Talk to everyone about your business, products and services and be sure to offer them your business card. Business cards are inexpensive and a very cost effective method of spreading the word about yourself and your business. Talk yourself up, because if you don't, who will?
Partnerships:
Join forces with other small businesses and cross promote your products and services in any way possible. Announce your partnership in both companies newsletters and mailings, write a press release and tell the community that you've teamed up to offer 2 (or more) great products or services. Combine your marketing dollars and send out postcards offering special summer savings, or team up to purchase flyers or door hangers together, creating more bang for your marketing buck.
Bonus Idea:
Consider hosting blitz marketing campaigns utilizing college students to distribute your marketing information in exchange for a post blitz party or barbeque. (This works!)
These are just a few ways to embrace the heat of the summer and draw customers to your business.
WePrintQuick.com is here to help. Email Stacie@evereadyprint.com if you need help with your summer marketing ideas.
About the Author:
You will find Stacie Clark at www.WePrintQuick.com stacie@evereadyprint.com where she finds creative ways to help businesses grow sales with print media.