Inbound marketing software guru geek genius makes a confession and shares how and why he was an idiot. I feel a kinship with Dharmesh Shah since I do idiotic things each week. To be as brave as Dharmesh Shah and share my idiotic behaviors with the world is yet to come.
If you do not yet know Dharmesh Shah then you are missing out and this would be a perfect time to click and read from Dharmesh as he shares deep insights about startups, philospophy, and leadership via OnStartups. Dharmesh will make you SMink = Smile and Think at the same time.™
By the way... while Dharmesh says so, he is in no way an idiot. Don't believe him for a second. Nor does he never makes a mistake. There are many things, however, that he will do only once. :)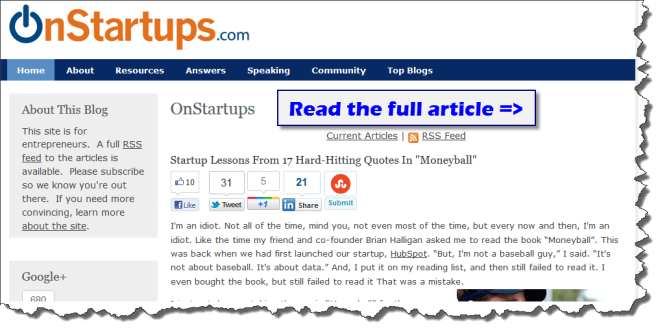 You need to have five solid resources to challenge your paradigms or you will get stuck and your success will be limited to only your own imagination. If you listen only to your own imagination, your reality may not be enough. There is a constant balance between "anything is possible" and the reality of what you can do.
"Look what I can do" may be impressive to people who don't have any knowedge but sooner or later you will need to graduate and juggle more than two balls in the air to stay in the game.
Dharmesh Shah is on my top list along with a half dozen others. You may decide he will challenge you to be awesome... or that he is not relevant.
Either way... I hope you choose someone who is doing more than selling you the next information product.
Learn the lesson from Dharmesh that we live in a world where taking risks and sharing faults is not only accepted but respected.
Read the book:
Inbound Marketing: Get Found Using Google, Social Media, and Blogs (New Rules Social Media Series) Brian Halligan (Author) Dharmesh Shah (Author)