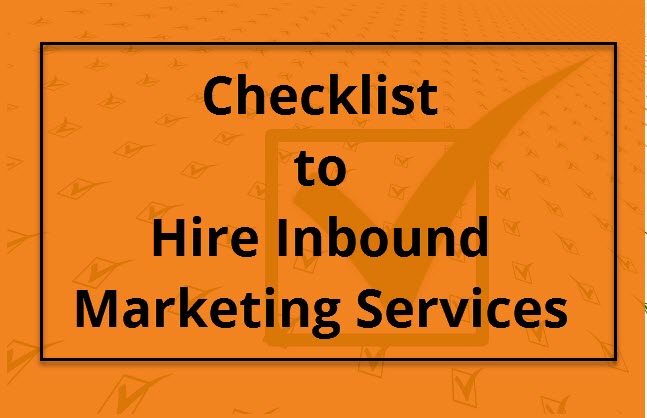 Are you interested in getting more leverage online? This checklist will help you to prepare for inbound marketing services. If your business is in start-up mode, this checklist can also be a guide to improve your chance of success.
Before considering hiring an inbound marketing services company or agency, consider the following:
Planning:
Clear financial goals
Strategic marketing plan
Customers:
Very specific defined target market segments/niches
Buyer personas defined
Customer database
Competition in the client's niche
People:
A marketing team (internal)
Understanding and acceptance inbound marketing strategies
A unified sales process where sales, marketing and managment are in sync.
Tools:
Marketing technology tools in place which relate to business (email, CRM, CMS, social media)
A website with conversion capabilities
Social media accounts
Production and Delivery:
Product and/or services ready
Delivery process in place
Transaction process
Content to be repurposed
Analytics:
Measures of success in place and understood
The next phase is to make the selection for inbound marketing services which can include:
Weekly review and planning meetings
Personas of buyers - develop
Keyword analysis and strategy
Content creation

Blogs
Videos
White papers
Graphics
Articles

Social media support
SEO support (Search Engine Optimization)
On-page SEO
Off-page SEO
Offers - product development
Landing page development
List segmentation
Online PR
Email marketing

Individual broadcasts
Newsletters
Campaigns
Workflows

CRM integration
CMS management and oversight (This inbound marketer uses Hubspot)
Analysis and monitoring
When all is said and done, many assume they are ready and jump into execution only to have time and money go down the drain.
"Inbound marketing does not work" becomes the cry. This becomes a reality since a jury-rigged inbound marketing plan was put together with rubber bands and toothpicks.
Get ready, use the checklist.