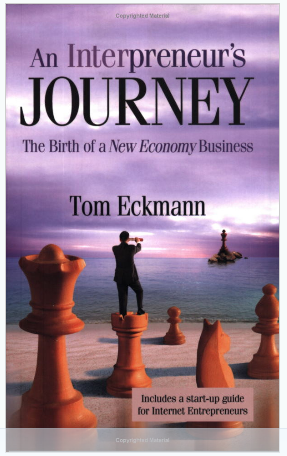 Starting a business? Have you read this book yet? "An Interpreneur's Journey: The Birth of a 'New Economy' Business" authored by Tom Eckmann. The 'Interpreneur' is an Internet Entrepreneur. You are unable to start a business today without understanding how to integrate the Internet into your business plan.
About the book:
Did you ever think about starting your own business? Bill Partridge does, especially when he's laid off by the company where he's worked for 14 years. Facing a long unemployment, he decides to go into business for himself. He starts a contracting company selling radiant heating and soon encounters the "two-by-four rule" - everything costs twice as much and takes four times longer than expected. He's running out of time and money when he makes an important discovery — he can sell his systems over the Internet. He re-invents his business and finds success selling to customers all over the country.
Bill joins the growing number of Internet entrepreneurs who are using the web to create new kinds of businesses and re-invent old ones. These Interpreneurs are quietly opening new markets and offering products and services in ways that were never before possible.
Bill's story is fiction but it realistically depicts the start-up experience and how a traditional business can be transformed using the Internet. It also serves as a "how to" guide for aspiring Interpreneurs, describing the steps and pointing out some of the pitfalls. The book includes lessons at the end of each chapter and a website where readers can find more start-up tips, planning tools and other helpful information.
The Internet has changed since the book was written. The prinicples for an entrepreneur to be successful in business have not changed as much as you may think. Starting a business is difficult but when you have an opportunity to pick the brains of other experts for such a small sum as the cost of a book, the risk is low. This one has great reviews. I have ordered the book. An Interpreneur's Journey: The Birth of a "New Economy" Business
About the Author:

Chairman and CFO, Tom Eckmann
Tom has more than 35 years experience as an entrepreneur, consultant and business executive. He has successfully started and sold several companies and been the senior operations executive in two public companies. Tom is a published author and Lecturer at the University of Washington's Foster School of Business, where he teaches innovation and entrepreneurship.
Tom has a strong spirit of mentorship and has provided career counsel to many men and women and advised new entrepreneurs in the launch of their businesses. Tom earned Bachelor of Science and Master of Engineering degrees in Industrial Engineering and Operations Research at the University of California in Berkeley.
You can order Tom's Eckmann's book here>