Free conference calling services are great addition to any guerrilla marketing plan. For being exposed to a couple of ads when you set up a call, you can run a telephone conference with your prospects, contractors, or employees. However, there are some downsides you may not be aware of as the host of the conference call.
Traffic Pumping:
Some of the free conference calling services are set up to make money not just through advertising but also through traffic pumping. These companies increase the traffic to rural exchanges to take advantage of compensation fees that are passed on to all users of the telephone network. More information about traffic pumping can be found on Wikipedia .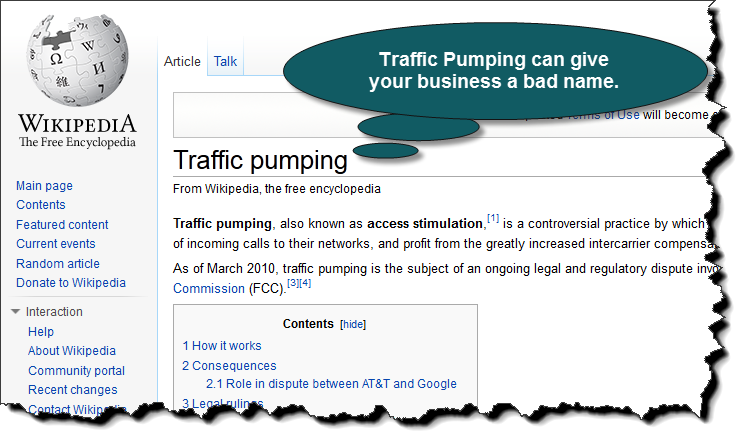 This little-known scheme called "traffic pumping" has been found siphoning money from service providers like AT&T and Verizon.
According to an Oct. 13 study by TEOCO, a cost management resource group, traffic pumping bled $2.3 billion from the big telecos–mainly Verizon, AT&T, and QWest–over the past 5 years. The study said this money went to the purposes of funding free conferencing services, free pornographic chat, free international calling, free pre-recorded calling, and free international radio.
Why should you care?
After all, the fees can't be much and the issue is working its way through the system. The trouble is that callers can be impacted, and it might make your company look bad.
When someone calls the conference number, their phone service may generate a message warning the caller that traffic pumping is being performed. Ooma does this, and I'm guessing other VOIP systems do as well.
At the end of the traffic pumping warning message, they connect the call. This takes time and is even more annoying when the caller is trying to reconnect after the call gets dropped (as seems to happen often with free services).
This can make your company look very unprofessional. (You may accept this marginal result because the service is free after all.)
Avoid free conference call services that do traffic pumping.
Do yourself a favor and use a service that doesn't engage in traffic pumping – some of the free services are OK. Test the system you want to use yourself before your conference call or ask someone to call in from a VOIP line. This will keep you in the know about what those on your conference call will experience and remember the host is typically unaware of any bumps or delays.
The Future:
On October 27, 2011, the FCC voted to reform the regulations that are mentioned in this article. Details are not known, but it is possible that the actions of the FCC will effectively eliminate free conference call services over a period of time.
In the meantime, test your conference call system to ensure that your company gives only the very best impression.
About the Author: Mike Pritchard is the principal of 5 Circles Research. Mike started consulting in 1993 to share the experience gained during his career at technology companies Intel, ICL, and Sperry Gyroscope.
5 Circles Research brings together rich experience in research, marketing, and engineering to offer effective, understandable and affordable market research. Our virtual team includes advanced statistical capabilities, data processing, focus group facilities, and telephone data collection services that complement our in-house capabilities.