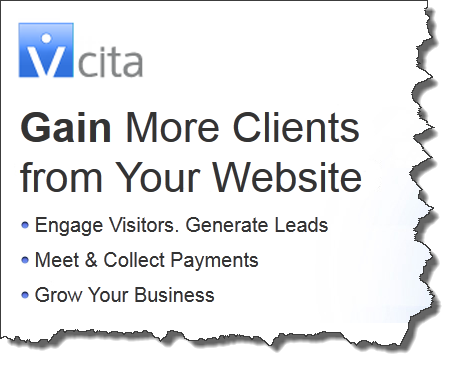 Instant Scheduling with vCita
Visitors and clients can request a meeting from your website, email, social network or directory listing.
vCita is an easy way to interact with your clients and visitors online. vCita helps you generate more leads from your website, blog, email or social networks. It is easy to set up.
Then vCita takes care of everything you need to manage your clients and provide services - from exchanging messages, scheduling, meeting online or over the phone and collecting payments.
vCita provides a meeting scheduler, online video meeting room, phone conference service, online payment system and a single management dashboard.
vCita enhances your online presence, making it more actionable. Anyone can start using vCita for free, as a standalone contact webpage or incorporate it into any existing website, blog or social network page.
Whether you run a business, a blogger, a consultant, a coach, a lawyer, a financial advisor, a medical professional, you can start using vCita for free.
While I have been using TimeTrade for three years and a very big fan, vCita has a few added features which will compilement TimeTrade very well. Give it a try.