Issues with data loss when working online with Firefox have reminded me how the use of Firefox with the "Lazarus add-on" can save you big headaches. Lazarus is the Firefox add-on that allows you to recover any data lost during a crash or similar problem by just right clicking on the box you lost it from. This would work for any lost information including progress notes. Great backup tool. I highly recommend it. You can use it at home too.
While Firefox has dropped to #2 most used browser behind Chrome, it is remains a tool with many options and still my first choice.
You can check to see if Lazarus is there by right clicking on a text box. If you get a line that says "recover text" you are good to go.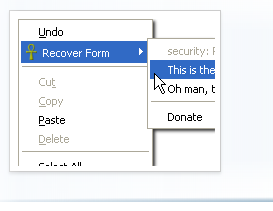 If not, here are the current instructions to install:

1. Open Firefox.

2. On the tool bar, click on "tools"

3. Click on "add-ons"

4. In the box at top right that says "search all add-ons" type "lazarus"

5. On the line that comes up with Lazarus listed click on "Install"

5. Click on "Restart now" and Firefox will restart with the addon loaded.

When Firefox re-opens just close the add-ons box and the Lazarus information page.
Lazarus securely saves forms as you type, allowing you to safely recover your lost work after server timeouts, network issues, browser crashes, power failures, and all the other things that can go wrong while you're entering forms, editing content, writing webmail, etc...

Lazarus works on ordinary web forms, WYSIWYG editors, and even AJAXified comment boxes, and will save you from pretty much any given server, browser, or connection problems that might otherwise cause you to lose your work, or that really pithy blog comment you struggled on for over an hour.

If you lose data at any time, just right-click on the box it went from, select "recover text" and click on what you lost.