Want to listen to your website visitors, customers or readers? SpeakPipe lets you set up a voicemail widget on your website or add the voicemail application to your Facebook page.
This allows your customers and visitors to leave voice messages right from a browser.
No phone calls are required!
While in beta, SpeakPipe is free to use.

Using the SpeakPipe widget is as easy as one, two, three.

When visitors come to your site, here is a screenshot that shows how they can leave a message: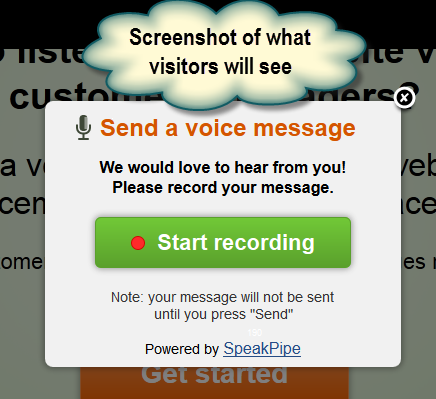 Not important to you?
Think again.
In the mobile world, the devices already include the telephone, a speaker, a microphone and more. You can't buy a laptop without a microphone and speaker already built in as standard.
If you believe that the mobile devices will become a primary means for connecting to the Internet, then having the ability to quickly connect via voice, text, social media or email will all need to be included.