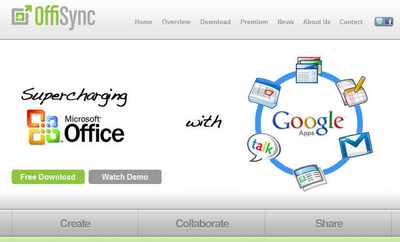 No need to choose for your business. Now you can use both and synchronize Google Apps with Microsoft Office.
"MS Office is my standard productivity suite. Now, with OffiSync all my Google docs are just one click away: No more time wasted switching back and forth between desktop and web browser!" Testimonial
About OffiSync
OffiSync supercharges Microsoft Office!
OffiSync is a Microsoft Office extension that brings web content right into Office and enables multiple users to work on documents together.
Most of us still create documents and collaborate on them just as we did in the 90's: We copy and paste content from the browser when we want to include it in our work and we still send documents by email when we need input, edits or feedback. Later, we also spend a lot of time to merge different versions together to include all the feedback we got.
OffiSync Supercharges Microsoft Office, enabling users to significantly improve the way they create, collaborate and share their documents by integrating Microsoft Office with Google Docs, and Google Apps.
Installing OffiSync adds a new toolbar to any version of Microsoft Office, letting users easily import web content such as images and templates right from within MS Office, collaborate with others in real time, letting users see each other's edits as they work with Office files and share their final documents with others inside or outside the firewall.